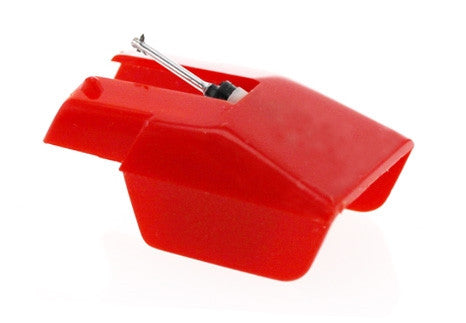 Stylus for JVC 4451 turntable
LP TUNES DT-31 STYLUS FOR JVC 4451 TURNTABLE
○ Finest DT-31 stylus for JVC MD-1014 cartridge fitted to 4451 turntable
○ Special conical diamond tip for good fidelity
○ .0007 inch radius for tracing accuracy and reduced record wear
○ High strength aluminum alloy cantilever for firm contact with LP grooves
The LP TUNES DT-31 stylus is specified for the stereo VM JVC MD-1014 cartridge that was factory installed in the 4451 turntable. Please compare with your existing stylus to verify compatibility.
Do not order the above stylus if it looks different from what you have or your stylus is missing. Instead, look at the info and marking on the existing cartridge and stylus and provide these to us. We need the brand and model number. Photos will be very helpful.
If the cartridge is missing or you prefer a new cartridge, please contact us for recommended replacement cartridges.
Upgrade Options
For upgrades and accessories that enhance sound quality and fidelity, refer to Related Products.
---