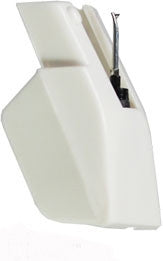 LP Tunes ATS12VL upgrade replacement for Audio-Technica ATS12 ATS11E ATS10 (ATS-12 ATS-11E ATS-10) stylus
LP TUNES UPGRADE REPLACEMENT FOR AUDIO-TEHNICA  ATS12 ATS11E ATS10  (ATS-12 ATS-11E ATS-10) stylus

The ATS-12VL stylus is equipped with a 0.2 x 3.0 mil Vivid Line diamond, which provides superior tracing and tracking of record grooves producing excellent reproduction of sound, voice, & harmonics.
The color of this stylus has changed over the years. Please be sure to compare your stylus with this stylus before ordering. Do not order this stylus if it looks different than the stylus that you have.
⚠ If you are unsure if this is the correct stylus please contact us here
Stylus Upgrade Options
Ultimate Upgrade: ATS12S
For enhancements to sound quality and fidelity please refer to the Related Products below.
---