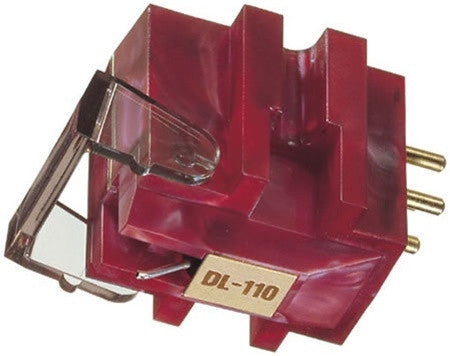 Denon DL-110 DL 110 DL110 Phono Cartridge - high output moving coil
DENON DL-110 DL 110 DL110 PHONO CARTRIDGE
The Denon DL-110 phono cartridge was designed to enable more people to enjoy the exquisite sound quality of moving coil (MC) phono cartridges. Developed using Denon's state of the art MC cartridge manufacturing know-how, the Denon DL-110 is a moving coil cartridge capable of producing a high output of 1.6mV which is equivalent to the output of moving magnet (MM) phono cartridges. The Denon DL-110 phono cartridge can thus be directly connected the MM phono input of your amplifier or receiver without the need for a step-up transformer, head amplifier or pre-preamp.
State-of-the-art technology has been employed in the minute sections of the Denon DL-110 phono cartridge such as the traditional cross-shape armature, dual-construction cantilever and the vibration-center one point support method using suspension wires. This enables balanced characteristics and excellent sound quality comparable to higher priced cartridges.
With the Denon DL-110 original vibrating section and its two-way damping method, sound quality fluctuations due to temperature differences are kept to a minimum. In addition, the overall weight has been reduced by simplifying the magnetic circuit thus improving the tracing ability of the stylus against record warps.
The Denon DL-110 phono cartridge uses a special elliptical stylus with a rectangular cross section of 0.1 x 0.2 mm. It reaches deep into the record groove to extract detail while bypassing groove wall beaten and shorn by age, misuse and misalignment. You'll probably be surprised by how quiet your LPs sound.
Proper setup is very important with the Denon DL-110 phono cartridge. Take the time to get it right and you'll be rewarded with its naturally sweet tonal balance, ambiance, quick transient response, and exquisite articulation. If you've been wondering why many have been captivated by moving coils, the Denon DL-110 will offer you many positive reasons why.
Denon DL-110 Phono Cartridge Specifications
- Type: Moving coil
- Output voltage: 1.6mV
- Frequency response: 20Hz-45kHz
- Recommended load impedance: over 47k ohms
- Channel balance @ 1kHz: Within 1db
- Channel separation @ 1kHz: > 25dB
- Stylus tip: Special elliptical solid diamond with 0.1 x 0.2 mm rectangular cross section
- Compliance: 8 x 10-6 cm/dyne
- Recommended tracking force: 1.8mN +/- 3mN (1.8g +/- 0.3g)
- Color: Red
- Weight: 4.8 g
Reviews
Positive Feedback Issue 15
Audiogon Forum
AudioReview Forums
"The DL-110 is the best budget cartridge I have yet heard after a couple years of trying a handful of budget carts."
- DK
---