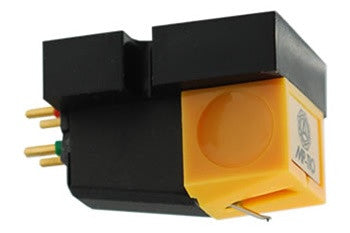 Nagaoka MP-110 Phono Cartridge
NAGAOKA MP-110 MP 110 MP110 PHONO CARTRIDGE
What makes the Nagaoka MP-110 stand out is the way it provides a musical performance that is completely satisfying and fulfilling, while still having the ability to create those "oh, wow" moments because the music just sounds so good. Tracking and bass impact are exceptional and the music has an effortless ebb and flow no matter if you are listening to classic rock or pure classical, with everything in-between.1
The above excerpt from a recent review demonstrates the eloquence and artistry of this humbly-priced and affordable cartridge. The successor to the acclaimed and classic Nagaoka MP-11 phono cartridge, the Nagaoka MP-110 phono cartridge extends and strengthens its predecessor's talents to a new level of radiance. You'll hear more music, more detailed refinement to enjoy and savor. The Nagaoka MP-110 is the cartridge to start with and to keep for a long time.
Nagaoka MP-110 Phono Cartridge Specifications
- Type: Moving magnet
- Cantilever: Aluminum alloy
- Stylus type: Superfine polished elliptical bonded diamond with 0.4 x 0.7 mil radii
- Weight: 6.5 g
- Output voltage @ 1kHz,5cm/sec: 5mV
- Frequency response: 20Hz-20kHz
- Channel balance @ 1kHz: > 1.5dB
- Channel separation @ 1kHz: > 23dB
- Recommended loading: 47k ohms
- Dynamic compliance: 6.0 x 10-6 cm/dyne
- Static compliance: 18 x 10-6 cm/dyne
- Tracking force range: 1.5 - 2.0 g
- Break-in period: 30 hours
- Stylus replacement: Nagaoka JN-P110
1 Don Lindich's Sound Advice Blog, Nagaoka MP-110 Cartridge, http://www.soundadviceblog.com/vinyl-records/nagaoka-mp-110-phono-cartridge/
Excellent cartridge
Installd replacing a B&O cartridge in a Technics 1350 with Technics head. Had to improvise a bit to get the angle correct, but once I did it performs well. Clear, clean, makes my record collection sound new. Great imaging and presence.
Have not set-up my system yet. I don't have a clue.
---