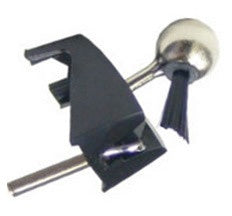 LP Tunes Shibata replacement for Stanton D6800EEEIIS stylus
LP TUNES SHIBATA REPLACEMENT FOR STANTON D6800EEE IIS D6800-EEE-IIS D6800EEEII-S STYLUS
The Stanton D6800-EEE-IIS D6800EEEII-S stylus is equipped with a Shibata shaped diamond, which provides superior tracing and tracking of record grooves producing excellent reproduction of sound, voice, & harmonics.
Special Notes
(1) The cartridge needs to be aligned and set-up properly using an alignment protractor. Due to its special ability to reveal detail, if the cartridge is improperly aligned, you will hear distortion.
(2) We recommend that you detach the supplied brush. It's easier to align and optimize and it delivers better sound quality.
If you are unsure if this is the correct stylus please contact us here
For upgrades and enhancements to sound quality and fidelity please refer to the Related Products below.
Stanton Re-tip
Quite good...if anyone considers a re-tipped Stanton stylus , SHIBATA is the ultimate, in MY opinion....crisp and clear, with more detail on the highs.
---