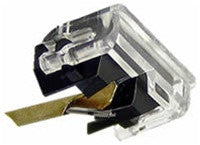 Replacement for Realistic R5X stylus
REPLACEMENT FOR REALISTIC R5X NEEDLE STYLUS
The replacement for the Realistic R5X needle stylus features a highly polished elliptical diamond for superb tracing of record grooves. It results in excellent sound quality and rendition of voice and music. The stylus is made in Japan by a world-class manufacturer with a reputation for crafting musically excellent and high-quality replacement styli.
For a stylus replacement that offers improved sound quality and performance, refer to the Related Products.
Perfect
They assisted with finding me the perfect replacement with pictures of the old one that had rotted away. It fit perfectly and sounds great! They made something I thought was gonna be very difficult super easy!!
Fit my cartridge perfectly
Very satisfied with my purchase of the replacement stylus for my old Shure 5X stylus. The fit was perfect and the sound quality is superior to what I had previously. The item arrived 2 days earlier than expected and was well packaged.
---