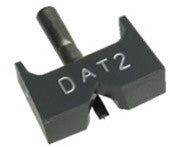 Replacement for Pickering D-1507AT D1507AT stylus
REPLACEMENT FOR PICKERING D-1507AT D 1507AT D1507AT NEEDLE STYLUS
The replacement for the Pickering D-1507AT D1507AT needle stylus features a highly polished special conical diamond for long playing life, reduced record wear and effective tracing of record grooves. It offers clean harmonics and very good sound quality.
Silky smooth sound
I love the way this new stylus sounds and tracks in my vintage Pickering.
Excellent stylus for KLH Model 20
The sound and fidelity are excellent. A big improvement over old used styli like those you might find on eBay, or incompatible versions you might find cheap on Amazon. Stick with this one.
As promised.
Plugged in the new needle and the old KLH sounds as good as new. Thanks for bringing my vinyl collection back into good and welcome use.
---