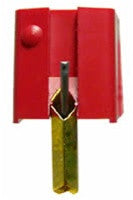 Replacement for Pfanstiehl 670-D7 670D7 needle stylus
REPLACEMENT FOR PFANSTIEHL 670-D7 670D7 NEEDLE STYLUS
The replacement for the Pfanstiehl 670-D7 670D7 needle stylus features a highly polished conical diamond for long playing life and good rendition of voice and music. The color of the stylus varies.
The Pfanstiehl 670-D7 670D7 needle stylus is used with the products listed below.
- AUDIO TECHNICA AT-4 AT4 CARTRIDGE
- BSR 25CX 35CS C-136 C136 C-180 C180 C-181 C181 C-217 C217 C-250 C250 C-260 C260 C-272 C272 MA-50 MA50 P-189 P189 P-204 P204 P-207 P207 SA-100 SA100 20-CX 20CX
- DENON DSN-24 DSN24 STYLUS
- DENON GM-20 GM20 JM-11 JM11 CARTRIDGE
- ASTATIC N1500 N1512 N1552 N1553 N1562 N1602 N1603 N1611 NEEDLE
- EVG PM2305D PM2472D STYLUS
- FIDELITONE A605 STYLUS
- FISHER MG-25J MG25J CARTRIDGE FISHER ST-25J ST25J STYLUS
- KENWOOD V-3G V3G CARTRIDGE KENWOOD N-38 N38 STYLUS
- ONKYO OC-18M OC18M OC-36M OC36M OC-24M OC24M CARTRIDGE
- ONKYO DN-36 DN36 DN-36ST DN36ST DN-18 DN18 DN-18ST DN18ST DN-24ST DN24ST STYLUS
- RADIO SHACK RS1056 STYLUS
- RECOTON SP814
- SANSUI SN33 SN-33 SN50 SN-50 STYLUS SANSUI SC-50 SC50 SV-50 SV50 CARTRIDGE
SANSUI 3300 7700 AUD-22 AUD22 FR-3 FR3 FR-4 FR4 FR-5 FR5 SR-333 SR333 SR-535 SR535 SR-232 SR232 TURNTABLE
- SANYO DXT5489 DXT-5489 GXT-110 GXT110 GXT-4812 GXT4812 TURNTABLE
- SANYO MG-25J MG25J CARTRIDGE SANYO ST-25J ST25J STYLUS
-SONY ND-124 ND124 ND-125 ND125 ND-126 ND126 ND-131 ND131 ND-132 ND132 ND-124P ND124P ND-125G ND125G ND-125P ND125P ND-126G ND126G ND-126GA ND-127E ND127E ND-131G ND131G ND-132G ND132G ND-132GA ND132GA STYLUS
- SONY VG-1200G VG1200G VG-26G VG26G VM-21 VM21 VM21P VM-21P VM-22 VM22 VM-22G VM22G VM-22P VM22P VM-24P VM24P VM-26G VM26G NS-12 NS12 VM-1200G VM1200G CARTRIDGES
- SOUNDESIGN 3201 432 432EX 435 4381 5648 5715 5880 6632 6667 6669 TURNTABLE
- TOSHIBA N-13C N13C N-13D N13D STYLUS TOSHIBA C-27M C27M CARTRIDGE
- YAMAHA CG-5500 CG5500 CARTRIDGE YAMAHA N-5500 N5500 STYLUS
- YORX M2656 M2657 TURNTABLE
If the stylus above differs from what you have, then it means you no longer have the fitted cartridge. For us to assist you further, we need the cartridge brand and model number. This info is usually inscribed on the cartridge and stylus.
---