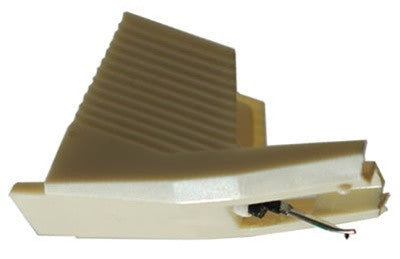 LP GEAR HYPERELLIPTICAL ATN-3472HE ATN 3472HE ATN3472HE NEEDLE STYLUS
The LP Gear ATN-3472HE ATN3472HE needle stylus features a highly polished hyperelliptical diamond mounted on a thin-wall metal alloy cantilever. It offers superior tracing accuracy of record grooves, extended high frequency response and vivid harmonic complexity beyond the capability of regular and special ellipticals. This stylus offers an exquisite listening experience that keeps you wanting to play more LP's and records. It is suitable and will sound marvelous with phono cartridges that use any of the ATN3472 stylus series.
For a stylus replacement that offers improved sound quality and performance, refer to the Related Products.
LP Gear ATN3472HE Stylus Specifications
- Frequency response: 12Hz-27kHz
- Output voltage @ 1kHz,5cm/sec: 3mV
- Channel balance: 1dB
- Channel separation @ 1kHz/10kHz: 29/19dB
- Stylus type: Hyperelliptical
- Cantilever: Thin-wall metal alloy tube
- Tracking force: 1.00- 1.50g
- Stylus color: Beige
Atn3472he
This stylus sounds great!
---