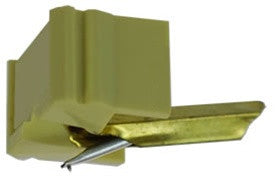 Vivid Line LP Tunes Upgrade for Shure N-91ED (N91ED) stylus
VIVID LINE UPGRADE REPLACEMENT FOR SHURE N-91ED N91ED NEEDLE STYLUS
The replacement for the Shure N-91ED N91ED needle stylus features a Vivid Line diamond tip for extraordinary harmonic accuracy, superior detail and pristine clarity across the frequency spectrum.
For a stylus replacement that offers improved sound quality and performance, refer to the Related Products.
Excellent stylus!
I needed a new stylus for my Shure M19ED. This fit the bill and sounds awesome! Great service from Elizabeth and the team! Competitive price and shipping! Highly recommend LP Tunes!
Magnifique
A la suite de plusieurs recommandations, au lieu de remplacer ma shure m91ed, kai acheté le stylus hyper elliptique, j'utilise cette cartouche sur une lenco l75, le son estvrsiment bien détaillé, à la hauteur de mes attentes.
Super
This HE replacement stylus for my Shure M91ED cartridge is fabulous. Price was right and performance is outstanding. Highly recommend.
Very good or the price!
Good stylus, the distortion is almost non existent, good detail resolution.
Hyperelliptical upgrade for Shure N-91ED
A remarkable stylus at a remarkable price. Sounded good right out of the box. I think this is identical to a similarly named stylus selling elsewhere for almost $20 more.
Good choice!`
The VL, which I suspect is a JICO hyperelliptical, picks up greater detail than the original N91ED stylus, even though it is bonded, and it is better at presenting high frequencies. I was concerned that it might not be as good as the original at suppressing surface noise, but my concerns were laid to rest. The surface noise sounds different, but it is not greater or more intrusive. This was a very good choice to replace the original stylus.
---