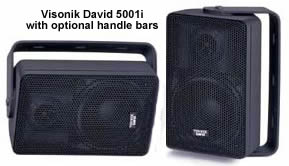 Visonik David 5001i speakers (Free S&H)
The DAVID speakers from VISONIK is a true and exceptional original.
Designed as a sophisticated and high quality miniature loudspeaker it quickly evolved into a semi-professional miniature monitor used in studios around the world due to its unique and superior sound quality. Whether it be the BBC, ZDF in Germany or JazzRadio Berlin - wherever a high-quality miniature monitor is needed the VISONIK DAVID is being used. In fact, the DAVID 50 was the first German loudspeaker to receive the prestigious Japanese Export Product Price in 1977 during the 6th Japanese Audio Grand Prix for innovative technologies.
In the production of miniature loudspeakers, cabinet design has a decisive major impact on sound quality and accuracy. Often easy-to-bend plastics are used in cabinet construction. Not so at VISONIK. The DAVID 5001 is robust and neutral in sound due to its stiff aluminum cabinets.
The unique efficiency (SPL) of the DAVID also makes it possible to reach impressive levels in volume with less amplifying power. Built on 25 years of experience in the fields of miniature louspeakers and subwoofers, the DAVID 5001i is truly special. Professionals from all over the world have put faith in DAVID miniature monitors.
---