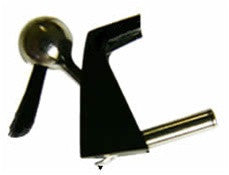 D6800EEE IIs Shibata LP Tunes Stylus for Stanton 681EEE MKII-S cartridge
D6800EEE IIS SHIBATA STYLUS FOR STANTON 681EEE MKII-S CARTRIDGE
The D6800EEE IIs stylus for the Stanton 681EEE MKII-S phono cartridge features a highly polished Shibata diamond for exceptional tracing of record grooves. It results in very accurate rendition of voice and music. The stylus is very clean and captivating with precision pacing, natural tone and very good dynamics. It offers a solid and tranquil background from which music flows effortlessly and naturally almost without any trace of edge and sibilance.
For a stylus replacement that offers improved sound quality and performance, refer to the Related Products.
Special Notes
(1) The cartridge needs to be aligned and set-up properly using an alignment protractor. Due to its special ability to reveal detail, if the cartridge is improperly aligned, you will hear distortion.
(2) We recommend that you detach the supplied brush. It's easier to align and optimize and it delivers better sound quality.
681eee mkII-s stylus
Great sounding replacement for vintage Shibata. Cymbals clean with ringing, complexity presented effortlessly.
Noted though the new cantilever is larger diameter and protrudes slightly longer than both old eee and Shibata. Also appears to no have no tie-wire. Setting the 92deg diamond rake angle didn't put the plastic guard quite parallel to surface. But all in all, performs excellently.
Mounted on highly modified Philip's 312, Denon avr-x3500h, Seas MTMs with ultra crossovers, BIC subw.
---