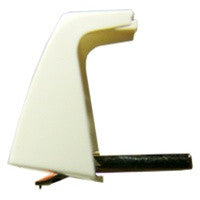 Stylus for Stanton 680 EL II 680 ELII cartridge
STYLUS FOR STANTON 680ELII 680 EL II 680 ELII CARTRIDGE
The replacement for the Stanton D6800ELII needle stylus is used with the Stanton 680ELII 680 EL II 680 ELII phono cartridge. The stylus features a highly polished and precision profiled special elliptical diamond with .0003 x .0007 inch scanning radii for excellent tracing of stereo records and results in pristine clarity, fidelity and highly accurate reproduction of recorded voice and music.
Upgrade Options and Accessories
For upgrade stylus replacements and accessories that enhance sound quality and fidelity, refer to Related Products.
Stanton 680 EL ll. stylus
They are fine have bought from you before anyway so I know the product
---