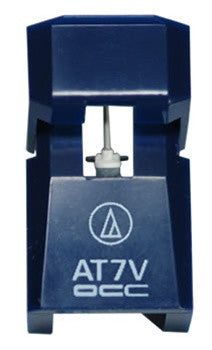 Stylus for Signet MR 5.0ml cartridge
STYLUS FOR SIGNET MR 5.0ML CARTRIDGE
The original manufacturer, Audio-Technica, replacement stylus for the Signet Maximum Resolution Series MR 5.0ml cartridge features a highly polished, grain-oriented square shank, nude special elliptical diamond with a .0002 x .0007 inch radii. It is mounted on a tapered aluminum alloy cantilever for natural sound reproduction, long playing life, very high fidelity, dynamics and very high-resolution.
MR5.0 Series
Signet had Five cartridges in this series. The top two were the MR5.0 LC and an MR5.0 ML. This stylus is set like the MR5.0LC (linear contact). The ML(microline) used a beryllium cantilever and a microline tip (do not recall the dimensions but was top of the line). A young person with a good ear may hear the difference when set up correctly, and it would add life to the albums. I have not seen any new stylus that fit these cartridges with the true microline diamond tip. Some state microline but use the linear contact such as this sylus. I have never used this stylus so I cannot actually give a review, just a comment. Hope this helps.
Terrific replacement stylus
I have a Signet MR cartridge that I love the sound of. However, the old stylus was clearly showing its age. I ordered the 5.0ml stylus replacement (as now made by AT); it was delivered promptly in its sealed original packaging. I was emailed of it's shipping, and was able to track the package along its journey. It has brought the cartridge's sound back to life - I'm very happy!
I made my vinal come alive again. Worth the money
At 7v stylus
A considerable upgrade . Recommend
Upgraded Replacement
I recently purchased a vintage Kenwood KD-500 Turntable that came with a Magnepan Unitrac 1 Carbon Fiber Uni-Pivot Tonearm and a Signet Cartridge with a MR b Stylus I decided to replace the Stylus since I had no idea how old or used the old one was found this here and it sounds Awesome.
Fantastic
Extremely fast shipping, exactly what was shown. Thank you.
Stylus for Signet MR 5.0ml cartridge
I spent more on this than a cartridge that I was looking at that came with a stylus (they all do it seems), but in the end it probably was the right choice as it's made my turntable go from a rather mediocre experience to a very good one. Now I'm much more compelled to put on my records...
---