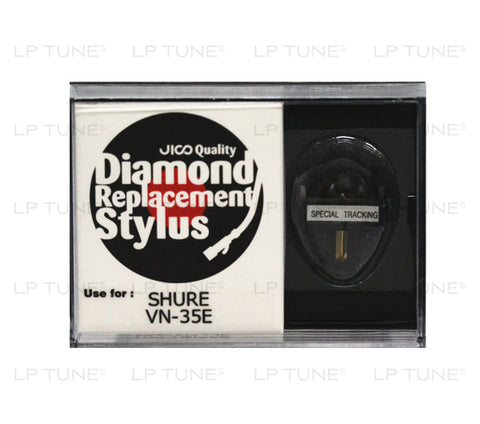 Jico replacement stylus for Shure V15 Type III cartridge
JICO REPLACEMENT STYLUS FOR SHURE V15 III CARTRIDGE

The VN35E stylus has enhanced accurate tracing and tracking of record grooves with its elliptical diamond all while providing the user an outstanding listening experience.
The color of this stylus has changed over the years. Please be sure to compare your stylus with this stylus before ordering. Do not order this stylus if it looks different than the stylus that you have.
⚠ If you are unsure if this is the correct stylus please contact us here
Stylus Upgrade Options
Superior Upgrade: VN35HE
For enhancements to sound quality and fidelity please refer to the Related Products below.
Beware of counterfeits! There is only one Jico distributor in the US, Canada and all of the Americas: LP Tunes. A Jico stylus comes in Jico packaging or with Jico US engraved on the stylus. All others are selling styli of unknown origin and quality. Contact us to verify the authenticity of the claimed Jico stylus before buying.
For enhancements to sound quality and fidelity please refer to the Related Products below.
Jico Stylus
I did some research of Jico before I bought a stylus from this brand. Jico replacement stylus is great you can hear the dynamics coming out of the speakers via the amplifier when playing back a record from the turntable. Jico makes quality accessories for your turntable I'd highly recommend them.
An incredible change!
I had an original needle that was crying out for a change. I did a long investigation regarding the manufacture of the needles, especially because Shure no longer manufactures them directly. The journey was long, especially because I'm from Chile ... So after a long time of waiting, the needle comes in a well insured box, the assembly in the capsule is impeccable, and the sound, totally changed in a positive way. It brings out the layers, recovers the bass, the agonising "raspiness" of the previous needle is gone and the absolute silence is back. I admit that it is a bit expensive, but I hope this replacement will last for a long time. The purchase process was expeditious and they advised me very well via email to make sure that the replacement was the right one. Thank you very much!!!
Still waiting.
Hi I still haven't received the stylus so can't really review!
---