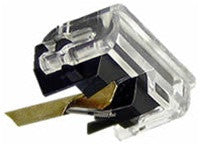 Stylus for Realistic 42-2914 42 2914 422914 turntable
STYLUS FOR REALISTIC 42-2914 42 2914 422914 TURNTABLE
The Realistic 42-2914 42 2914 422914 turntable was fitted with a Realistic Shure R47-XT R47XT phono cartridge and a Realistic R5X needle stylus. A photo of the stylus replacement is supplied above. The color of the stylus varies. Please verify and use this as a guide only since the cartridge and stylus may have been changed through the years.
For a stylus replacement that offers improved sound quality and performance, refer to the Related Products.
If the stylus above differs from what you have, then it means you no longer have the fitted cartridge. For us to assist you further, we need the cartridge brand and model number. This info is usually inscribed on the cartridge and stylus.
If you cannot identify, please contact us for a replacement phono cartridge suitable for the Realistic 42-2914 42 2914 422914 turntable.
Terrific choice
I ordered this as a replacement for my R5x Shure/Realistic R47edt stylus. It certainly sounds at least as good as the R8x that I'd been using. A great combination giving a flatter response than the traditional Shure sound, much more subtle on a good performing system. I'll buy it again, when it's time is up!
---