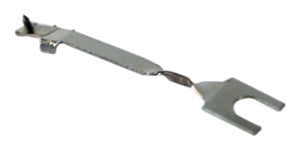 Stylus for Realistic 13-1164 13 1164 131164 turntable
STYLUS FOR REALISTIC 13-1164 13 1164 131164 TURNTABLE
The stylus for the Realistic 13-1164 13 1164 131164 turntable features a highly polished conical diamond for long playing life and good rendition of voice and music. A photo of the stylus replacement is supplied above. The color of the stylus varies. Please verify and use this as a guide only since the cartridge and stylus may have been changed through the years.
If the stylus above differs from what you have, then it means you no longer have the fitted cartridge. For us to assist you further, we need the cartridge brand and model number. This info is usually inscribed on the cartridge and stylus.
First class service providing hard to get stylus
I had a lot of trouble finding a replacement stylus for an ancient 1970's portable record player. Thankfully, LPTunes had this little dinosaur and shipped it off promptly. It took 6 weeks to arrive here on the other side of the planet, but when it did I found that it had been packed extremely well. Once it was installed the old record player was up and rocking again after a hiatus of 30 years. Thank you LPTunes. Highly recommended.
---