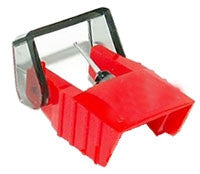 Stylus for Audio-Technica PRO-13E cartridge
STYLUS FOR AUDIO-TECHNICA PRO-13E CARTRIDGE
- Discontinued, no substitute available. For new cartridge (with stylus included) alternatives see Related Products below. For more cartridge suggestions please contact us.

The replacement for the Audio-Technica ATS-13 stylus for the Audio-Technica PRO-13E phono cartridge features a highly polished elliptical diamond with a .0003 x .0007 inch scanning radii. It offers excellent tracing of record grooves, long playing life and accurate reproduction of voice, music and harmonics.
For a stylus replacement that offers improved sound quality and performance, refer to the Related Products.
Fit perfectly sounds great
---