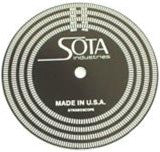 SOTA STROBE DISC
The SOTA Strobe Disk allows you to accurately set your turntable speed if your turntable features fine speed control or to inform you of speed problems. This stroboscope disk can be used to test for both 33 1/3 and 45 RPM speeds at both 50 and 60 cycles AC. This four-inch diameter cardboard stroboscope disk is easy to use. Simply place it over the spindle of your turntable and turn your turntable on. The outer band is used for tuning 33 1/3 speed and the band second on the inside tunes the 45 RPM speed. You must use an AC powered light or lamp to illuminate the stroboscope.
Sota Strobe Disc Features
- Four speed support: 33 1/3, 45 RPM with 50 Hz and 60 Hz markings
- Dimensions: 4.0 inches diameter
- Main Material: Cardboard

SOTA strobe disc
Great item, arrived quickly and safely! Will be returning to LP Tunes for all my music needs!
Needed One Badly
My old Strobe Disc (from 1971) was getting too bent up & ratty looking, hard to see. Needed one Badly to use on my vintage turntable. LP Tunes had this Strobe Disc, Great Quality at a Great Price, and it works Fantastic. Thanks LP Tunes.
---