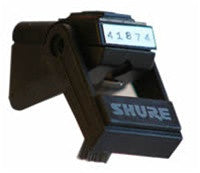 Shure ULTRA 400S stylus for Shure ULTRA 400 cartridge
SHURE NEEDLE STYLUS FOR SHURE ULTRA 400 CARTRIDGE
The Shure ULTRA 400S needle stylus for the Shure ULTRA 400 phono cartridge features an integrated stylus guard, dynamic stabilizer damper brush and a Micro-Ridge diamond for superior tracking and tracing of record grooves. It results in exemplary accuracy and excellent rendition of voice and music.
Shure ULTRA 400S Stylus Specifications
- Output voltage @ 1kHz, 5cm/sec.: 4mV
- Channel balance: Within 1dB
- Channel separation @ 1kHz: 27dB
- Frequency response: 10Hz-30kHz
- Stylus type: .00015 x .003 inch Micro-Ridge
- Tracking force range: 1.7 g
- Color: Black
Options and Upgrades
- For upgrades and accessories that enhance sound quality and fidelity, refer to Related Products.
---