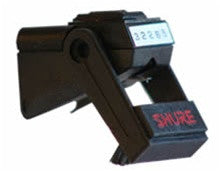 SHURE ULTRA 300S NEEDLE STYLUS
The Shure ULTRA 300S needle stylus for the Shure ULTRA 300 phono cartridge features an integrated stylus guard, dynamic stabilizer damper brush and a Micro-Ridge diamond for superior tracking and tracing of record grooves. It results in exemplary accuracy and excellent rendition of voice and music.
Shure ULTRA 300S Stylus Specifications
- Output voltage @ 1kHz,5cm/sec.: 3.3mV
- Channel balance: Within 1.5dB
- Channel separation @ 1kHz: 25dB
- Frequency response: 10Hz-22kHz
- Stylus type: 00015 x .003 inch Micro-Ridge
- Tracking force range: 1.7g
- Color: Black
Options and Upgrades
- For upgrades and accessories that enhance sound quality and fidelity, refer to Related Products.
---