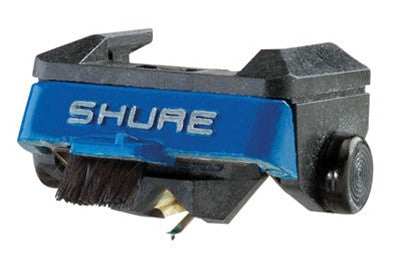 Shure elliptical replacement for Shure NE-97HE NE97HE stylus
SHURE ELLIPTICAL REPLACEMENT FOR SHURE NE-97HE NE 97HE NE97HE STYLUS
The original Shure NE-97HE NE97HE needle stylus for the Shure ME97HE phono cartridge was discontinued several years ago and is no longer available. As an equivalent replacement, we offer a Shure special elliptical stylus that fits and plays marvelously with the Shure ME97HE phono cartridge. The Shure N97xE needle stylus features an elliptical diamond for superb tracking and tracing of record grooves. It results in finer detail and harmonically complete sound quality. The stylus comes equipped with an integrated stylus guard and a dynamic stabilizer damper de-staticizer brush.
Shure N97XE Stylus Specifications
-Output voltage @ 1kHz,5cm/sec.: 4mV
-Channel balance: 2dB
-Channel separation @ 1kHz: 25dB
-Frequency response: 20Hz-22kHz
-Stylus type: 0.2 x 0.7 mil elliptical
-Tracking force range: 0.75-1.50g
-Color: Black/Blue
For a stylus replacement that offers superior fidelity refer to Related Products.
---