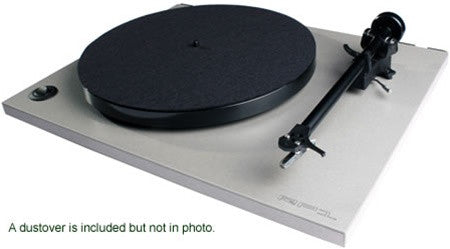 Rega RP1 turntable in Titanium - Free US mainland Ground S&H
THE ALL NEW REGA RP1 TURNTABLE IN TITANIUM
Designed and engineered to achieve outstanding performance way beyond the expectations of a product at this price point. (The Rega RP1 has already won the 2010 What HIFI Awards as The Best Turntable up to 300.)
Excellent build quality, reliability and ease of use combine to make a product which will offer a lifetime of musical enjoyment. Omitting all the usual gimmicks allows us to concentrate the manufacturing costs on the high quality parts necessary to reproduce records accurately.
Using a manual speed change rather than an automatic mechanism, eliminates speed inconsistencies and reduces wear of the drive belt. The money saved is spent across the design including a new hand assembled RB101 tonearm, precision main bearing, phenolic resin platter and a high quality low vibration motor which would normally be used on a turntable costing two or three times the amount.
The minimalist design of the Rega RP1 and the use of extremely high quality components ensure that this turntable will last for many years. The RP1 is the first in a new generation of Rega turntables offering far greater performance than their predecessors.
We are confident the performance of this amazing new product will impress you. Rest assured the only thing entry level about the RP1 is the price !
The all new completely British-made Rega RP1 features:
- Brand new Rega RB101 tonearm.
- Precision main bearing and sub-platter assembly.
- High quailty low vibration motor.
- All new Phenolic resin flywheel effect platter for excellent speed stability.
- Ortofon OM5e moving magnet cartridge.
- Rega sound quality at an unrivalled price.
Resources:
---