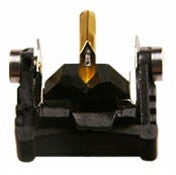 LP Tunes stylus for Shure V15 RS cartridge
LP TUNES STYLUS FOR SHURE V15 RS CARTRIDGE
The LP Tunes VNSE3HE stylus is specified for the Shure V15 RS phono cartridge. With its sublime ViVid Line Contact stylus and superb tracking and tracing of record grooves, it offers finer detail and harmonically complete sound quality. The stylus comes equipped with an integrated stylus guard and dynamic brush. For even better sound quality, we recommend the brush to be locked up in detente position.
Upgrade Stylus and Options
For an upgrade stylus replacement that offers superior fidelity and sound quality, refer to Related Products.
stocking up
Only four stars for this reason: I recently loaded the cartridge onto a Conrad Johnson Sonographe III with a Helius tonearm. That combination was immediately my best and favorite. (
(The stylus on that I had purchased 3 years ago from you.) Loving the setup, I purchased this from you so I'd have a backup in the future at today's price. I put in in to make sure it worked; it did. Then back in the plastic box against that future day.
Perfect match for Shure
Back in business and it sounds so good 😎
Oooga Booga
I went to the well and purchased a second stylus. Man, this one sounds better than the first. Even though they are the identical stylus, this second one has some kind of magic going on. I am getting even more detail and transient response. Background vocals are even more defined. This second stylus is 95 percent of the original Shure stylus sound. Must be some kind of oooga booga magic going on. Seriously though, this v15rs stylus is sounding superb. If I give it too much of a glowing review, there will be a run on this stylus. Shhhh, let's keep this among ourselves.
This is a winner
This stylus gives me 90 percent of the original Shure stylus sound. I am a happy camper. I do not know if the sound will improve due to any type of break in. If it does...great. If it does not, I am still a happy camper. Thanks so much for this stylus offering. It is almost perfect....almost.
---