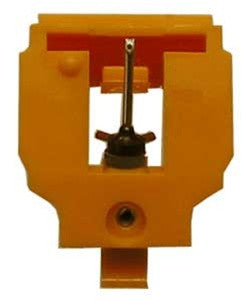 Improved stylus for Pioneer PL-Z93 turntable
IMPROVED STYLUS FOR PIONEER PL-Z93 TURNTABLE
How to Identify Which Stylus will Work with Your Turntable
Stylus Model:
Improved Replacement for Pioneer PN-210
Used with Cartridge Model:
Pioneer Phono Cartridge
Used with Turntable Model:
Pioneer PL-Z93
FEATURES:
Aluminum Cantilever: The aluminum cantilever allows for a firmer grip on the record groove, thus resulting in better sound quality. The cantilever is also more durable and longer lasting.
PLEASE NOTE:

The color of the stylus varies. If the stylus depicted in the picture above differs from what you have, DO NOT ORDER this stylus.
Instead, take a look at the markings on the existing cartridge and stylus and provide us with the brand name and model number. Photos will also be helpful.
UPGRADES AND ACCESSORIES
For a stylus upgrade, replacement parts and accessories that can offer improved sound quality and performance, please refer to the Related Products below.
Improved stylus for Pioneer PL-Z93 turntable
---