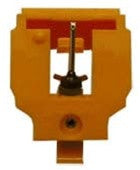 Improved replacement for Realistic AT-3600LAX AT3600LAX stylus
IMPROVED REPLACEMENT FOR REALISTIC AT-3600LAX AT 3600LAX AT3600LAX NEEDLE STYLUS
The improved replacement for the Realistic AT-3600LAX AT3600LAX needle stylus (RSU No. 10239012) features an aluminum cantilever which is superior to the carbon fiber used in the regular Realistic AT-3600LAX needle stylus. The aluminum cantilever offers a firmer grip on the record groove and is more durable and longer lasting. It results in better tonality, dynamic contrast and spatial detail.
For a stylus replacement that offers improved sound quality and performance, refer to the Related Products.
stylus for turntable.
good quality product. quick delivery.
Took awhile to get here but they fit. Thanks.
---