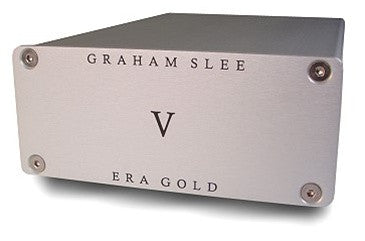 Graham Slee Era Gold Mk V phono preamp
GRAHAM SLEE ERA GOLD MK V PHONO PREAMP
The Graham Slee Era Gold Mk V phono preamplifier is truly exceptional. It throws current thinking to the wind, and concentrates on its singular mission - that of reproducing music the way music sounds. The result is a phono preamp that breathes real music into life.
Michael Fremer, in Stereophile Vol. 27 No. 1, calls the Era Gold V the "miraculous phono preamp" for its ability to change and dramatically lift an entire system's sound quality and make music sound real! Subsequently, Stereophile awarded Class A $$$ Recommended Component rating on the Era Gold Mk V thus making it the least expensive phono preamp in this very exclusive class of superlative achievers. Others cost $1,500 - $15,000!
For Michael Fremer's complete review, click here.
For the TNT Audio Magazine review, click here.
The Era Gold Mk V is designed for use with the highest quality turntables, tonearms, moving magnet, moving iron, and high output moving coil cartridges which require a fixed 47k ohms load. This single-minded focus removes all design compromises thus setting the music free! Because there are no switch contacts in the signal path and because of its extremely fast amplifier stages with matched, high speed,low dielectric absorption RIAA networks, the Era Gold will retrieve detail from records with crystal clarity and precision, produce an amazingly accurate and stable stereo image, tight powerful bass and fantastic detail resolution with vast improvement to musical timing and timbre, along with the ethereal or ephemeral feel of valves. The resulting sound is startling in its musicality!
High-Performance Results
As with many high performance products, the results it gives will only be as good as the source feeding it, but with a good turntable-arm-cartridge combination the results will be heard. At last, much of the grittiness blamed on the vinyl medium is exchanged for real music. Brass, with its complex harmonic structure appears as it should, rather than the usual distortion you get with slower pre amps.
As, is usually the case, it's the attention to the smallest details which make the biggest difference to how things sound. With the Era Gold V, these small details are reproduced with such finesse that the music is brought to life. The life it had when committed to the master tape! Not just with modern high quality pressings or direct cut discs, but with used vinyl too, right back to the birth of RIAA stereo recordings.
How this is achieved is based on Graham Slee's concept of phase integrity, which can only be realized by fast electronics, which in turn is an art seldom understood, or achieved by other phono preamp manufacturers. Every natural sound has its harmonics. These harmonics carry the information our hearing needs to distinguish between instruments, voices, the particular way in which they are played or sung. They also carry the micro-information about the recording venue, the microphone placement, the reverb - natural or synthetic - sounds and energies that make up the backdrop to the recording, and that backdrops perspective.
The power supply used to power the Era Gold is the PSU1. It uses extremely low impedance, high temperature reservoir capacitors, paralleled for even lower impedance prior to a voltage regulator, which itself is very low impedance. Its 12 watt peak capability is far greater than the power demanded by the Era Gold.
Additionally, the voltage is regulated a second time within the phono preamp itself, providing an extremely clean power supply to the amplifiers. It is further improved by distributed tantalum capacitors. However, it is Graham Slee's attention to the signal ground which makes the biggest impact. The ground is many orders of magnitude more stable than any other phono preamp in the market, no matter how big the power supply!
The fast circuitry of the solid state Era Gold places it on par with many a tube phono preamp. In fact, it can be quite difficult to differentiate between it and a tube preamp. However the Era Gold carries none of the frequency limitations (Miller capacitance). Many have found it unbelievable that such a big, controlled and astonishingly musical sound can be "made" by such a small "box".
The Era Gold V phono preamp is powered by the outboard PSU1 power module which is included.
The Listener's Phono Preamp
A listener enjoys music and is persnickety about it. He/she will take the time to assemble components that will maximize the musicality of his/her playback system. This applies whether the system is modest or stratospheric. It's an attitude towards music and much about life really. This attention to detail differentiates the true listener from the equipment lover.
The Era Gold V is the listener's phono preamp because it brings real music to life. It also requires patience. It requires a month of actual use before it will let you experience its grandeur. Afterwards, the Era Gold V becomes "miraculous."
Graham Slee Era Gold MK V Phono Preamp Specifications
- Phono connectors: Heavy gold plated
- Input sensitivity: 2mV - 9mV
- Input impedance: 47k and 100pF
- Output: 240mV - 1.08V
- Headroom: 26dB ref 2mV input
- Output noise "A" wtd.: -75dB
- Distortion: <0.02%
- Frequency response: 10Hz - 2.7MHz
- Reproduction curve: RIAA with 50kHz EQ
- Dimensions (mm): 170 x 117 x 50
- Shipping weight: 5 lbs.
Warranty
Should this product fail while being used for its intended purpose, within one year of purchase, we will repair or replace it at our discretion. Please contact LP Tunes for details. No other liability will be accepted. Your statutory rights are not affected.
Manufacturer
Graham Slee Projects Limited
1 Monks Way, Monk Bretton, Barnsley, S71 2JD, United Kingdom
+44(0)1226 244908 Tel/Fax
gsp.ltd@gspaudio.co.uk email
http://www.gspaudio.co.uk website
---