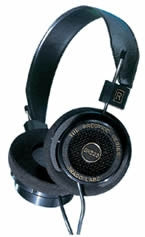 Grado SR-325i SR 325i SR325i Headphones
GRADO SR-325i SR 325i SR325i HEADPHONES
Ships to US only
The SR325i are the top of the range Prestige headphones. They incorporate all of the design features of the lesser models, combined with UHPLC wire in both the voice coil and connecting cord. Non-resonant aluminum alloy is used in the make up of the metal driver housings. Grado also embarked on a complex treatment in order to increase the materials porosity. This ensures that the earphone chamber has no "ringing" which may obscure detail or add coloration. The resulting headphone combines pristine, open and very detailed highs, well defined mid range and vocal bass.
The SR325i sound excellent with portables and inexpensive home audio electronics. For use with sources that require a mini-jack (computer, portables, etc.), you will need a 1/4 inch to mini adapter. This is not included in the package.
Features
- Vented diaphragm
- Aluminum air chamber
- Ultra high-purity long crystal copper voice coil wire
- Ultra high-purity long crystal copper connecting cord
- 1/4 inch plug
Reviews
"The SR325s are easily the flattest, most accurate sounding phones tested, for critical monitoring, the Grados are hard to beat. Of all the phones tested, the SR325s were the only headphones I felt trustworthy enough for mixing." -Loren Alldrin, Pro Audio Review Vol.4, No.6
"Of all the Grado Prestige headphones I've heard, the SR325 is my favorite!" - John Gatski, Audio Magazine Vol.82, No.6
Awards
Winner of Audio Video's "Grand Prix Award"
Grado SR325i Headphones Specifications
- Transducer type: Dynamic
- Operating principle: Open air
- Frequency response: 18Hz-24kHz
- SPL 1mV: 98
- Normal impedance: 32 ohms
- Driver matched db: 0.05
---