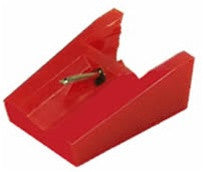 Elliptical stylus for Sony PS-LX150H PS LX150H PSLX150H turntable
ELLIPTICAL STYLUS FOR SONY PS-LX150H PS LX150H PSLX150H TURNTABLE
The Sony PS-LX150H PS LX150H PSLX150H turntable was fitted with a Sony phono cartridge and a Sony CN-234E CN234E needle stylus. A photo of the stylus replacement is supplied above. The stylus features an elliptical diamond for superb tracking and tracing of record grooves. It results in finer detail and harmonically complete sound quality. The color of the stylus varies. Please verify and use this as a guide only since the cartridge and stylus may have been changed through the years.
If the stylus above differs from what you have, then it means you no longer have the fitted cartridge. For us to assist you further, we need the cartridge brand and model number. This info is usually inscribed on the cartridge and stylus.
Our vinyl collection comes alive!
After years of renovation, we unpacked the old sony turntable and dusted off the vinyl only to find we needed a new stylus. What to do? So lucky that we found LP Tunes, and our diamond tipped stylus was shipped all the way from Las Vegas to Cooma, Australia. Now we're loving our old records again, it's an absolute joy. Great service from LP Tunes, thank you!
I wish I'd replaced my stylus years ago!
A Good Experience
It was an easy purchase and the item arrived quickly.
---