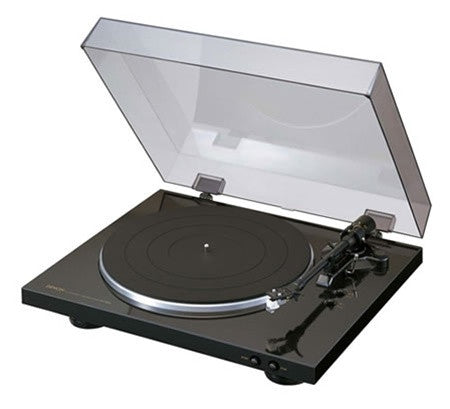 Denon DP-300F DP 300F DP300F turntable improved
DENON DP-300F DP 300F DP300F TURNTABLE IMPROVED
- Improvements transform the DP-300F from good to golden, extract more music from record grooves and elevate sound quality.
Listed below are the Denon DP-300F turntable's main features:
| | | |
| --- | --- | --- |
| Complete Ready-To-Play Turntable | | The Denon DP-300F turntable comes complete with an installed phono cartridge and built-in switchable on/off phono preamp. It is ready for serious playing. Only minor set-up is required (about 15-20 minutes). |
| Refined External Design | | The Denon DP-300F's 4mm thick cabinet wall offers strength, high density and beauty with its glossy black coating. The straight tonearm and aluminum diecast platter have been formed into a slim, attractive desogn. With a body width of 434mm, the Denon DP-300F combines elegantly with full-sized systems. |
| Fully Automatic Turntable | | When the 30cm or 17cm record size is selected, the tonearm automatically moves and plays the record and then returns when the playback ends. |
| Highly Capable Straight Tonearm | | The DP-300F's straight tonearm with fine adjustments for anti-skating and zero balance brings out the maximum performance of cartridges with superior tracing capabilities. The supplied tonearm can be replaced with different cartridges weighing 5.0 - 10g. |
| Diecast Aluminum Platter | | The DP300F's platter is made of diecast aluminum to achieve high inertial mass for stable rotation. |
| Belt Drive System | | The belt isolates the motor from the platter while providing rotational accuracy. |
| Manual Arm Lifter | | The DP-300F turntable is also equipped with an arm lifter mechanism to facilitate manual operation. The arm lifter makes it easy to place or remove the stylus from any location on the record. |
| Built-in Phono Preamp | | The DP-300F turntable includes a built-in Phono Preamp so that it can be directly connected to a component (receiver, mini system, computer sound card, integrated amp) that does not have a phono preamp. The built-in Phono Preamp is switchable on/off. |
Denon DP-300F Improved by LP Tunes Extracts More Music From the Grooves
We elevated the performance of the Denon DP-300F turntable for enhanced music listening and fidelity for recording your LPs to Digital. The Denon DP-300F begins its ascent in sound quality when you replace the factory installed stylus with our LP Tunes DSN-85E stylus. You'll hear more defined detail, sparkle, air and micro-dynamics. No, it is not impeccableeven turntables costing 50 times more aren't sonically perfect. But the integration of these special parts to the Denon DP-300F enables the turntable to play music beyond expectations.
We are providing for FREE a new LP Tunes DSN-85E DSN85E elliptical stylus (retail value $34.95) for you to install as replacement of the factory supplied stylus.
The improvement in sound quality is priceless!
Denon DP-300F Turntable Improved
Motor Section
Drive System
Belt drive

 

Speed
33 1/2, 45 rpm

Wow & flutter

0.10% (WRMS)

Turntable platter
Diecast aluminum
Tonearm
Type
Straight
Effective length
221.5 mm, 8.72 inch
Overhang
19 mm, 0.75 inch
Tracking error
Within 3 (degrees)
Stylus pressure range
0 - 4.0g (0.1g increments)
Compatible cartridge weight
5.0 - 10.0g (excluding headshell)
Cartridge
Type
Moving Magnet
Appropriate tracking force
2.0g
Cartridge weight
5g
Replacement stylus
LP Tunes DSN-85E
Supplied heashell weight
10g
General
Power supply
AC 120V, 60 Hz
Power consumption
2W
Dimensions

434 (W) x 122 (H) x 381 (D) mm
17.1 (W) x 4.8 (H) x 15.0 (D) inch
(including feet)

Weight
5.5 kg, 12.13 lbs.
* Design and specifications are subject to change without notice.
---