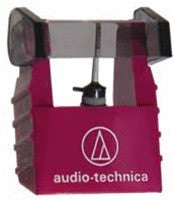 Audio-Technica stylus for Audio-Technica AT-74SAP AT74SAP cartridge
AUDIO-TECHNICA STYLUS FOR AUDIO-TECHNICA AT-74SAP AT74SAP CARTRIDGE
-Out of stock, discontinued. For alternative stylus replacement, refer to Related Products below.
The Audio-Technica ATS-14 ATS14 needle stylus for the Audio-Technica AT-74SAP AT74SAP phono cartridge features a Shibata diamond for superlative tracing of record grooves and reduced distortion and record wear. It results in excellent musical accuracy, naturally sweet tone and complete harmonic integrity. The stylus is made in Japan by Audio-Technica.
---