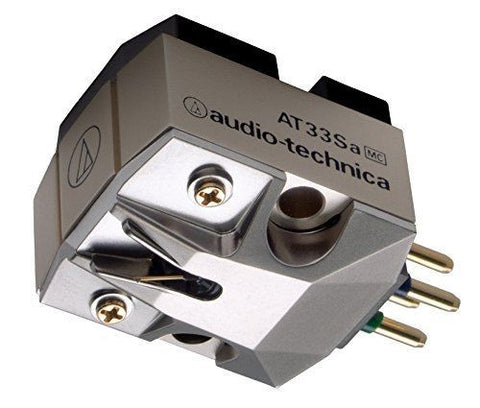 Audio-Technica AT33Sa Phono Cartridge
AUDIO-TECHNICA AT33SA AT-33SA PHONO CARTRIDGE
The New Audio-Technica AT33Sa - irresistible sound quality! The AT33sa features the highly acclaimed Shibata stylus. The Shibata stylus produces richly detailed, harmonically melodious and organic sound quality across the frequency spectrum. To extend performance even further, it is mounted on a boron cantilever with a double damper.
● Advanced tapered boron cantilever and reduced weight
The AT33Sa uses a tapered boron cantilever. Tapering the cantilever and revising the number of coil rotations reduce the weight, giving the cartridge better high range performance and wide range reproduction.
● Neodymium magnet with dramatically enhanced magnetic energy and permendur yoke
The model uses a neodymium magnet with maximum energy product BHmax of 50 [kJ/m3] and a permendur yoke with high saturation flux density and outstanding magnetic properties, which further enhances the concentrated magnetic field of the coil gap.
● PCOCC coil
The PCOCC coil enables purer transmission because it is not subject to grain boundaries in the direction of transmission. *PCOCC = Pure Copper by Ohno Continuous Casting process (Monocrystalline high-purity oxygen- free copper)
● High-separation, wide response dual moving coil
The basic structure is an original MC type, with separate cylindrical coils to the left and right channels. Since power is generated independently in each of the left and right channels, this structure offers truly superior separation. If the signal from the opposite channel escapes, this can cause intermodulation distortion and have a decisive impact on audio quality and how the stereo sound spreads. The structure of this product ensures a clear and smooth sound. Additionally, the two coils have a reverse-V shape which reduces effective moving mass as seen from the stylus tip, limiting unnecessary movement of the coil and further eliminating distortion.
● VC mold limits unnecessary vibration
The VC mold that affixes the coils is made with hard synthetic resin containing potassium titanate to make it highly strong and rigid. This improvement results in a lighter product, which reduces unnecessary vibration. ● Highly rigid body suppresses resonance
The cartridge's housing is made of precision-cast hard aluminum alloy. Hard synthetic resin sandwiching in the structure on the top and bottom suppresses parasitic resonance. This minimizes unnecessary noise while enhancing rigidity and the signal-to-ratio.
Audio-Technica AT33SA Specifications
- Type: Moving Coil VM Dual Magnet Stereo
- Playback frequency range: 15 ~ 50,000 Hz
- Output voltage: 0.4 mV (1kHz, 5 cm/sec.)
- Channel separation: 30 dB (1kHz)
- Output balance: 0.5 dB (1kHz)
- Tracking force: 1.8 ~ 2.2 g (2.0 g standard)
- Coil impedance: 10 Ω (1kHz)
- DC resistance: 10 Ω
- Rec. load impedance: 100 Ω or more (when head amplifier connected)
- Coil inductance: 22 μH (1kHz)
- Static compliance: 40 40-6 cm/dyne
- Dynamic compliance: 10 10-6 cm/dyne (100Hz)
- Stylus: Shibata
- Cantilever: Boron solid taper
- Vertical tracking angle: 23
- Dimensions: 16(H) 16.6(W) 26.5(D) mm
- Weight: 6.9 g
- Accessories: non-magnetic driver 1, washer 2, Protector 1, Cartridge mounting screws 13mm 2,19 mm 2, Nut 2, Brush 1, PCOCC lead set 1.
Note: Specifications are subject to change without notice.
---