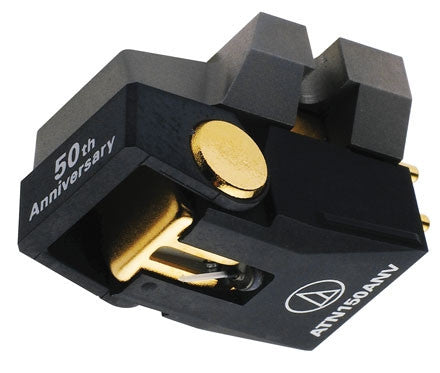 Audio-Technica AT150ANV Phono Cartridge
AUDIO-TECHNICA AT-150ANV AT150ANV LIMITED EDITION PHONO CARTRIDGE
- For music that just
jumps
from the grooves.
1
The 50th Anniversary limited-edition AT150ANV moving-magnet phono cartridge combines traditional design elements and craftsmanship with the latest technological refinements to deliver richly detailed and superbly accurate vinyl playback. The AT150ANV utilizes a Micro Linear stylus tip mounted on φ0.4mm sapphire cantilever pipe. Its pure titanium housing and Neo-fade damping material are designed to absorb unwanted parasitic resonances for rock-solid clarity and and unshakable resolution. The musical result is sure to please the most discriminating audiophiles and music lovers.
● Para-toroidal generation system and a high-performance dual magnet type system VM.
- Audio-Technica's moving magnet cartridge design delivers "practically identical to the cutter head" performance.Audio-Technica's patented Vector-Aligned Dual Magnet design positions two tiny magnets 90 degrees apart. These magnets are positioned directly in line with the two groove walls and each magnet incorporates a separate, independent coil structure. This low magnet mass and geometry allow exact translation of record groove motion into matching electrical signals, ensuring excellent channel separation, extended frequency response, and superior tracking. The power generation system adopted in the body features an extremely small magnetic loss para toroidal core without seam, resulting in higher power generation efficiency. In addition, the improved high frequency response is achieved via two laminated cores. A separate shield plate in the center of the left and right power generation systems reduces electrical crosstalk.
● Cantilever pipe φ0.4mm sapphire.
- With the sapphire cantilever, there is no high-frequency resonance of the cantilever. Excellent frequency response is maintained across the entire band.
● Pure titanium housing.
- High precision machined pure titanium housing provides a strong foundation material for the internal generation system and assists in rock-solid playback.
● Neo-fade damping material mounted internally.
By incorporating the Neo-fade damping material mounted internally, unwanted parasitic resonance are adsorbed efficiently.
● High-performance Micro Linear stylus.
- Latest and most advanced design closely resembles the cutter stylus than any previous design. This shape produces better high frequency response with less wear or distortion than with earlier configurations. The contact tip does not change shape up to the brink of obliteration.
● PCOCC wire is used for the coil.
- A technologically advanced pure copper material is used in Audio-Technica's exclusive Para-toroidal Signal Generator. Together with the laminated core structure, which minimizes loss in the high frequency region, this integrated para-toroidal signal generator achieves an efficiency greater than conventional cartridges. The use of PCOCC wire (Pure Copper by Ohno Continuous Casting) perfects the performance of the advanced para-toroidal coil design. A special high-temperature extrusion die produces copper with virtually no transverse crystal barriers to impede signal transmission or color sound. The coils of the Audio-Technica AT150ANV thus transmit distortion-free sound up to its output posts. The most subtle details are reproduced with natural purity.
● Magnetic mold reduces unnecessary movement.
- The Magnetic mold, a hard synthetic resin material blended with potassium titanate for high strength and high rigidity, secures the magnet. This reduces unnecessary movement and results in for solid sound reproduction.
Audio-Technica AT150ANV Phono Cartridge Specifications
- Type: Moving Magnet VM Dual Magnet Stereo
- Frequency response: 10 ~ 23,000 Hz
- Output voltage: 4mV (1kHz, 5 cm/sec.)
- Channel separation: 30 dB (1kHz)
- Output balance: 0.8 dB (1kHz)
- Tracking force: 1.2 ~ 1.8 g (1.5 g standard)
- Coil impedance: 2.3 kΩ (1kHz)
- DC resistance: 530 ΩΩ
- Rec. load impedance: 47 kΩ
- Coil inductance: 350 mH (1kHz)
- Static compliance: 40 10-6 cm/dyne
- Dynamic compliance: 10 10-6 cm/dyne (100Hz)
- Stylus: Micro linear (ML)
- Cantilever: φ0.4 mm Sapphire pipe
- Vertical tracking angle: 23
- Dimensions: 17.3(H) 17(W) 28.2(D) mm
- Weight: 9.5 g
- Accessories: Driver 1, non-magnetic mounting screws 5mm 2,8 mm 2, Lead wires 4, washer 2, nut 2, 1 brush.
Note: Specifications are subject to change without notice
________________________________________________
Footnote 1: Michael Fremer, "Nine Cartridges Reviewed, Compared and File Identities Revealed!", Analog Planet, August 22, 2013. The venerable reviewer found the Audio-Technica AT150ANV cartridge to be a significant step above the rest, including the Ortofon 2M Black cartridge, particularly in terms of large dynamic swings. All things considered, the AT150ANV became his favorite and easily the best sounding. It's certainly the most exciting and vital sounding. The music just jumps from the grooves.
---