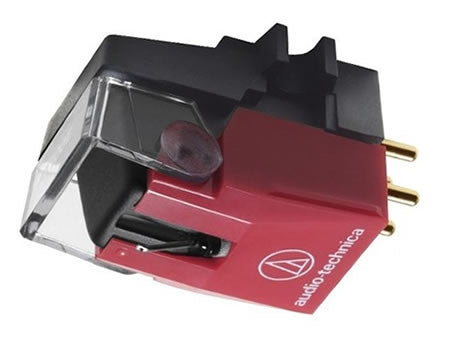 Audio-Technica AT100E Phono Cartridge
AUDIO-TECHNICA AT100E CARTRIDGE
The half-inch standard mount Audio-Technica AT100E is a finely crafted phono cartridge. It features a structure that improves performance of the vibration system, allowing the stylus perfect contact to the record surface. Additionally, it adopts a lossless Paratoroidal generator coil system to their cartridge bodies that results in peak generating efficiency. Stacking two cores makes further improvements to high frequency characteristics by separating the right-and-left channels from the center shield plate, resulting in reduced electrical cross talk. The VM type AT100-series' dual magnet vibration and generation systems have been highly praised all over the world and have become a long-selling series.
Its use of PCOCC coil enables purer signal because it is not subject to grain boundaries in the direction of transmission.
Audio Technica AT100E Phono Cartridge Details
- Output voltage: 4.5mV
- Frequency response: 20Hz-20kHz
- Channel balance @ 1kHz: 1.5dB
- Channel separation @ 1kHz: 27dB
- Tracking force: 1.0 - 1.8 g (1.4 g standard)
- Coil impedance: 2.3 Ω
- DC Resistance: 800 Ω
- Recommended load impedance: 47 kΩ
- Load capacitance: 100 - 200 pF
- Coil inductance @ 1kHz: 350 mH
- Static compliance: 35 x 10(-6) cm/dyne
- Dynamic compliance: 8 x 10(-6) cm/dyne
- Stylus shape: Jointed 0.3 x 0.7 mil Elliptical diamond
- Cantilever: Aluminum pipe
- Vertical tracking angle: 23°
- Weight: 6.5g
- Accessories included: Non-magnetic Screwdriver, cartridge installation tools washers, screws, nuts, stylus brush.
Audio-Technica AT100E Phono Cartridge
Bought this for a near mint Pioneer PL-12D I picked up on E bay. I have it tracking at 1.5g. Still in the break in period but it sounds very clear. Played rock, classical, and sounds great on both. Good base on the Rock and the strings are very clear on the Classical. So far, very pleased.
---