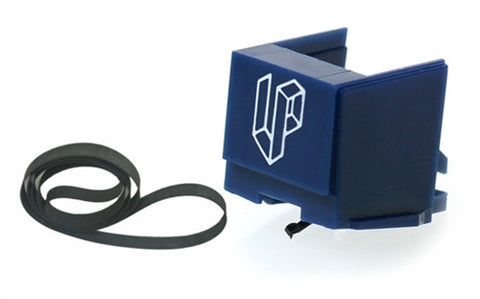 Upgrade Kit for Audio-Technica AT-LP60USB turntable
UPGRADE KIT FOR AUDIO-TECHNICA AT-LP60USB ATLP60USB TURNTABLE
"... this wasn't a subtle difference or something I had to learn to listen for. The improvements in the sound quality really stood out." 1
The upgrade kit for the Audio-Technica AT-LP60USB turntable improves the clarity, detail, and musicality of the factory supplied unit.
The kit is composed of a LP GEAR CFN3600LE stylus (Retail $55.00) featuring a highly polished special elliptical diamond with .0003 x .0007 inch tracing radii bonded to a special carbon fiber cantilever to refract the record grooves with exceptional precision thus resulting in better accuracy, natural tonality, spatial detail and crystal clean sound. You can keep the factory installed stylus that came with the turntable as backup. Our replacement belt by ViVid provides better torque and longevity. With these improvements you'll soon be enjoying your LPs once again.
_______________________________________
Footnote 1: Filippo Dinolfo, SmashPad, July 5, 2016. See full context at "Audio-Technica AT-LP60" Long-Term Review.
Great upgrade
Package very well. The belt is good quality and the head is great quality. Upgrade the sound out of my system greatly. The only thing I found negative is the shipping took twice as long as it was supposed to.
---