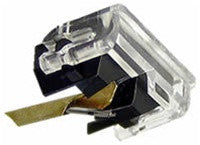 Stylus for Realistic 42-2967 42 2967 422967 turntable
STYLUS FOR REALISTIC 42-2967 42 2967 422967 TURNTABLE
The Realistic 42-2967 42 2967 422967 turntable was fitted with a Realistic Shure R47-EDT R47EDT phono cartridge and a Realistic R5X needle stylus. A photo of the stylus replacement is supplied above. The color of the stylus varies. Please verify and use this as a guide only since the cartridge and stylus may have been changed through the years.
For a stylus replacement that offers improved sound quality and performance, refer to the Related Products.
If the stylus above differs from what you have, then it means you no longer have the fitted cartridge. For us to assist you further, we need the cartridge brand and model number. This info is usually inscribed on the cartridge and stylus.
If you cannot identify, please contact us for a replacement phono cartridge suitable for the Realistic 42-2967 42 2967 422967 turntable.
Stylus
I have a vintage, Realistic turntable that I lost the stylus. I looked a lot of places online, but there were just so many styles and variations. I was concerned I wouldn't find the right one for my vintage turntable. I contacted LP tunes. I provided them the cartridge model # and they recommend a stylus. The stylus purchased arrived with fast delivery, the price was comparable to most others, and when it arrived and slid right into the cartridge and played my vinyl I could not have been more happy. I thank LP tunes for being prompt, having great communication and helping me out with my order. I will definitely order again.
---