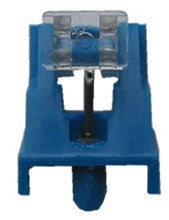 Stylus for Kenwood KD-48F KD 48F KD48F turntable
STYLUS FOR KENWOOD KD-48F KD 48F KD48F TURNTABLE
The Kenwood KD-48F KD 48F KD48F turntable was fitted with a Kenwood V-67BL V67BL phono cartridge and a Kenwood N-67BL N67BL needle stylus. A photo of the stylus replacement is supplied above. The color of the stylus varies. Please verify and use this as a guide only since the cartridge and stylus may have been changed through the years.
For a stylus replacement that offers improved sound quality and performance, refer to the Related Products.
If the stylus above differs from what you have, then it means you no longer have the fitted cartridge. For us to assist you further, we need the cartridge brand and model number. This info is usually inscribed on the cartridge and stylus.
If you cannot identify, please contact us for a replacement phono cartridge suitable for the Kenwood KD-48F KD 48F KD48F turntable.
Kenwood Turntable
Works great. Sounds great! ROCK ON!!
Excellent!!
Surprised to find a stylus for a vintage player. Easy to order, quick to ship and works perfectly!
Awesome
Needle is working great I will be back.
Exactly what I needed
Securely packaged, fast delivery. Thank you!
Great quality and a good price.
Vintage turntables can have hard to find parts. The fact that a needle is available for a Kenwood KD-48F is remarkable in and of itself. The icing on the cake is this is a finely crafted stylus, which helps produce great sound reproduction from records.
---