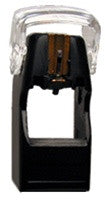 Stylus for ADC XLM-MKIII XLMMKIII cartridge
STYLUS FOR ADC XLM-MKIII XLMMKIII CARTRIDGE
The stylus for the ADC XLM-MKIII XLMMKIII cartridge features a highly polished special elliptical diamond with a .0003 x .0007 inch scanning radii. It offers natural excellent tracing of record grooves and results in very high accuracy and superb rendition of voice and music.
Replacement Stylus ADC XLM-MKIII XLMMKIII
Easy install, very clear vinyl replay and channel separation. Dual 1245 sounds like new! Thanks. I will follow up with tech support but I may likely change the entire cartridge & stylus in the future.
ADC XLM elliptical replacement stylus
Very pleased wth sound of new stylus. LP Tunes is first rate vendor, quick shipping, item well packed, arrived cross border to Canada in one week.
Great transaction.
ADC stylus: my opinion.
Very good value for money. Highly recommended.
Sounds great!
I was nervous to spend the money because my TT was purchased broken & untested. I got it all fixed up and this stylus sounds great! Really like the protector on the stylus as well. Definitely recommend.
---