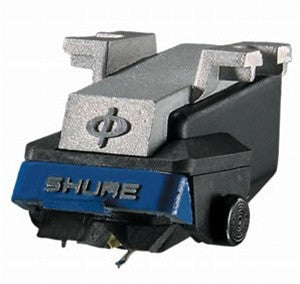 Shure M97xE Phono Cartridge
SHURE M97xE PHONO CARTRIDGE AUDIOPHILE
- Editors Choice Award for Cartridges below $500, The Absolute Sound
In recognition of its musical excellence, the Shure M97xE has been graced with The Absolute Sound Editors Choice Award for Cartridges below $500 in 2007, 2008 and 2009. (The Absolute Sound Issue 175). Designed for music listeners seeking a sensibly affordable and exceptional all-around performer, the Shure M97xE cartridge offers a generally neutral tonal balance, excellent tracking and an overall presentation that is effortlessly smooth and musical.
As one of Shure's best phono cartridges, the Shure M97xE low-mass moving magnet cartridge includes performance boosters such as a dynamic stabilizer damper, de-staticizer, and a diecast aluminum mounting block. Together, these enhance the capability of the cartridge to deliver superior, detailed, and very accurate sound.
The Shure M97xE is a superb sounding phonograph cartridge designed to provide long hours of undistorted listening, without fatigue. Its highly precise tracking ability and flat frequency response are made possible by Shure's unique Type II low-mass thin-wall aluminum alloy stylus cantilever, combined with a precision-crafted, finely polished, elliptical diamond tip.
Shure M97xE Phono Cartridge Audiophile Specifications
- Tonearm mount: 1/2 inch
- Type: Moving magnet
- Output voltage: 4mV
- Frequency response: 20Hz-22kHz
- Load impedance: 47k ohms
- Channel separation: 25dB
- Stylus type: 0.2 mil x 0.7 mil elliptical
- Stylus replacement: User replaceable Shure N97xE
- Cantilever: Aluminum alloy/tubular, 1 mil wall thickness, 20 mil diameter
- Tracking force: 0.75 - 1.5 g
- Weight: 6.6 g
- Accessories included: User guide, mounting hardware, headshell screwdriver, stylus cleaning brush
Shure M 97 xE
Can you help me ? I've tried to make a tracking but it's seems that it 's too late , anyway it doesn't work.
My dream cartridge is anywhere..
Please don't forget my adresse;
Rue du Vivier 37
4950 Waimes
Belgium 🇧🇪
My Best regards
Adam Szwagrun
---