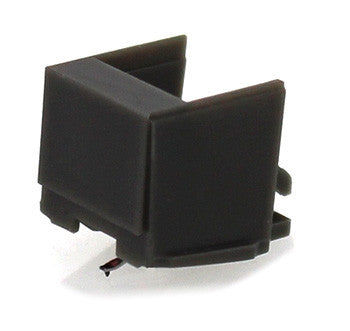 Replacement for Pfanstiehl 211-D3 211D3 needle stylus (78 RPM stylus)
REPLACEMENT FOR PFANSTIEHL 211-D3 211 D3 211D3 NEEDLE STYLUS (78 RPM STYLUS)
The replacement for the Pfanstiehl 211-D3 211D3 needle stylus features a 3.0 mil polished diamond designed specifically for the correct tracing of the wide grooves of 78 RPM records. It results in minimal groove wear and accurate rendition of voice and music. The color of the stylus varies.
A very common misconception is that you can use an LP stylus for playing 78 RPM records. This is one quick and sure way to damage the 78 RPM record grooves. To maintain the playback fidelity of your 78 record, you really need to use a stylus designed for 78 RPM records, otherwise with just a single playing, you could ruin the fidelity of the record grooves. Moreover, the LP stylus is much narrower than the 78 RPM record groove hence the tip will slide to the bottom of the groove where debris has collected for many decades. This results in extraordinarily high-surface noise.
The Pfanstiehl 211-D3 211D3 needle stylus is used as a 78 RPM stylus replacement for the products listed below.
AUDIO TECHNICA CARTRIDGE AT-3600 AT3600 AT-3600L AT3600L AT-3601 AT3601 AT-3650 AT3650 AT-3650L AT3650L AT-3651 AT3651 DB57 TR411 ATN-2003 ATN2003 CN-5625AL CN5625AL AT-3602E AT3602E AT-91 AT91 AUDIO TECHNICA STYLUS ATN-3600L ATN3600L ATN-3601E ATN3601E ATN-3602E ATN3602E ATN-360l ATN360l ATN-3650 ATN3650 ATN-3650C ATN3650C ATN-3650L ATN3650L ATN-3652 ATN3652 ATN-3652E ATN3652E ATN-2001 ATN2001 ATN-2002 ATN2002 ATN-2003 ATN2003 ATN-2004 ATN2004 ATN-2005 ATN2005 ATN-3651 ATN3651 ATN-3691 ATN3691 ATN-91 ATN91
AIWA STYLUS AN-11 AN11
AIWA MODELS PX-E850 PXE850 PX-E855 PX-E860U RX-E860U
CURTIS MODELS KP400 KX2000
CURTIS STYLUS EPS-43STSD EPS43STSD RB00005
CURTIS CARTRIDGE EPC-36SMBD EPC36SMBD RB00004
DENON CARTRIDGE DSN-72 DSN72 JM-78K JM78K DENON DSN-82 DSN82
DUAL CARTRIDGE DMS-235 DMS235 DMS-239 DMS239
DUAL MODELS CS138 CS511 CS514 CS520 CS610Q HIFI1020 HIFI1120 HIFI1160 HIFI1180 HIFI1260 HIFI1460 HS120 HS144
DUAL STYLUS DN-235 DN235 DN-239 DN239
EVG STYLUS 2312D PM2312D
JVC CARTRIDGE DT-55II DT55II QL-F300 QLF300 DT-55 DT55 L-F11Z LF11Z MD-1055E MD1055E MD-1055Z MD1055Z
JVC MODELS AL-A10BK ALA10BK AL-A10 ALA10 AL-E11 ALE11 AL-E33 ALE33 D-C-33 DC33 E11BK F-X1B FX1B F-X2B FX2B F-X3B FX3B F-X10B FX10B G-AV350 GAV350 G-AV500 GAV500 G-R100 GR100 G-R200 GR200 G-R300 GR300 G-R50 GR50 G-R11 GR11 G-R1B GR1B G-R22 GR22 G-R44 GR44 G-X100 GX100 G-X200 GX200 G-X300 GX300 G-XlB GXlB G-X200B GX200B G-X202B GX202B G-X222 GX222 G-X4-B GX4B G-X400 GX400 G-X400B GX400B G-X100B GX100B G-X111 GX111 G-X150X1B GX150X1B G-X111 GX111 G-X11B GX11B G-X11BM GX11BM G-X150 GX150 G-X2B GX2B G-X2BW GX2BW G-X300B GX300B G-X300S GX300S G-X302B GX302B G-X333 GX333 G-X3BW GX3BW G-X3CD GX3CD G-X400S GX400S G-X400SW GX400SW G-XW1B GXW1B G-XW10B GXW10B G-XW310B GXW310B G-XW312B GXW312B G-XW312S GXW312S L-A100 LA100 L-A110 LA110 L-A110B LA110B L-A120B LA120B L-A55 LA55 L-A90 LA90 L-A100(SOME) LA100(SOME) L-A100 LA100 L-T11 LT11 L-A90 LA90 L-AX1B LAX1B L-AX1 LAX1 L-3B L3B L-11B L11B L-AX1 LAX1 L-F210 LF210 L-F210-B LF210B L-FX4 LFX4 L-FX4B LFX4B L-L10 LL10 L-L10B LL10B L-T11 LT11 MIDI-W11 MIDIW11 QL-A200 QLA200 QL-A220 QLA220 QL-A220B QLA220B QL-F300 QLF300 QL-F320 QLF320 QL-F320B QLF320B QL-FX5 QLFX5 QL-FX5B QLFX5B STYLISTIC-110 STYLISTIC110 STYLISTIC-222 STYLISTIC222 STYLISTIC-34 STYLISTIC34 STYLISTIC-36 STYLISTIC36 STYLISTIC-40 STYLISTIC40 STYLISTIC-401 STYLISTIC401 STYLISTIC-403 STYLISTIC403 STYLISTIC-405 STYLISTIC405 STYLISTIC-GX1B STYLISTICGX1B STYLISTIC-GX11B STYLISTICGX11B STYLISTIC-GX2B STYLISTICGX2B STYLISTIC-GX3B STYLISTICGX3B STYLISTIC-GX3R STYLISTICGX3R STYLISTIC-L-L10B STYLISTICLL10B XL-V-200 XLV200
JVC STYLUS DT-55 DT55 DT 55B DT55B DT-55W DT55W DT-55II DT55II DT-59 DT-58II DT59 DT58II
KENWOOD STYLUS N-74 N-76 N74 N76 KENWOOD CARTRIDGE V-76 V-74 V76 V74
MAGNAVOX STYLUS 25130072 MAGNOVOX MODELS 1850 1851 BC1849 MD1849
ONKYO CARTRIDGE OC-61 OC61 ONKYO MODELS CP-1033A CP1033A CP-1007A CP1007A CP-1022A CP1022A CP-1026A CP1026A CP-1044A CP1044A CP-1046F CP1046F LICENSE37 LICENSE17X LICENSE17X27 LICENSE37 SOUNDSTAGE22 SOUNDSTAGE33 SOUNDSTAGE44 SYSTEM1 SYSTEM1XB SYSTEM2XB SYSTEM15 SYSTEM15X SYSTEM26X SYSTEM435-20R SYSTEM43520R ONKYO STYLUS DN-61ST DN61ST DN-63STE DN63STE DN-65ST DN65ST
PANASONIC CARTRIDGE EPC-43STSD EPC43STSD PANASONIC/TECHNICS CARTRIDGE EPC-36 EPC36 EPC-36SMBD EPC36SMBD EPC-43STSD EPC43STSD EPC-75SMHD EPC75SMHD PANASONIC/TECHNICS MODELS P5R(Soundscape) P7 SC-3212 SC3212 SG-V11 SGV11 SC-3111 SC3111 SC-3112 SC3112 SC-3200 SC3200 SC-3202 SC3202 SC-3210 SC3210 SC-3211 SC3211 SC-3400 SC3400 SC-3101 SC3101 SC-3201 SC3201 SG-V55 SGV55
PANASONIC/TECHNICS STYLUS EPS-43STSD EPS43STSD EPS-75STHSD EPS75STHSD
PHILCO MODELS M2766Q
PHILIPS MODELS F880 F883
PHILIPS CARTRIDGE F310 F320 F330 F780 GP780
PIONEER STYLUS PZP1004 PN-230 PN-240 PN230 PN240
PIONEER CARTRIDGE PC-230 PC-240 PC230 PC240
PIONEER MODELS 4000 A1000 A3000 A4000 PERSONA-S30 PERSONAS30 PERSONA S30 PL-340 PL340 PL-340 PL340 SYSTEM-5400 SYSTEM5400 SYSTEM-X2000 SYSTEMX2000 PL-202 PL-202AZ PL202 PL202AZ
SANSUI STYLUS SN111 SN1112 SN3601 SN3601/2 SN-111 SN-1112 SN-3601 SN-3601/2
SANSUI CARTRIDGE SV-111 SV-1112 SV111 SV1112 SANSUI MODELS 550 1400 DR-600 DR600 J500 P-1000 P1000 P-3000 P3000 P-E70 PE70 P-E 50 PE 50 P-E 70 PE 70 SYSTEM220 SYSTEM330 SYSTEM10 TP1400 TP220
SANYO MODELS 200 250 300 500 560 687 88 DCXW8 DCX18 J500 MIDIW18 RACK350 RACK360 RACKSYSTEM250 RACKSYSTEM60 SYSTEM1400 SYSTEM220 SYSTEM330 SYSTEM550 SYSTEM1400 SYSTEM220 SYSTEM230 SYSTEM550 TP-220 TP220 TP-250 TP250 TP-220 TP220 V32 STL-5D ST-L5D STL5D
SANYO STYLUS ATN-3650 ATN3650 ST-40 ST40 ST-L5D STL5D
SCOTT MODELS 220 CCS6038 PS-150 PS150 PS-150 PS150 PS-39 PS39 RX200 RX210 SMP-53 SMP53 SYSTEM3230 TP250
SHARP STYLUS N-7900 STY-123 STY-138 STY-140 STY-141 STY-142 STY-155 STY-163
SHARP CARTRIDGE 123
SHARP Models RP-7900 SC-4900AV
SEARS MODELS 91895 91896
SONY STYLUS N-6516 N6516 ND-142 ND142 ND-142EP ND142EP ND-142EY ND142EY ND-142G ND142G ND-142GP ND142GP ND-155G ND155G
SONY CARTRTDGES VL-42G VL42G VL-55G VL55G
SONY PS-LX110 ALLIANCE20 ALLIANCE20W ALLIANCE26 ALLIANCE36 ALLIANCE46 ALLIANCE56 ALLIANCE56CD ALLIANCE66 ALLIANCE66CD ALLIANCE76 LX700 PRECISE-V700 PRECISEV700 PRECISE-V700W PRECISEV700W PS-CX700 PSCX700 PS-L750 PSL750 PS-LX205 PSLX205 PS-LX210 PSLX210 PS-LX295 PSLX295 PS-LX220 PSLX220 PS-LX231 PSLX231 PS-LX250 PSLX250 PSLX250H PS-LX250H PS-LX285 PS-LX295 PS-LX310 PSLX310 PS-LX340 PS-LX35 PSLX35 PS-LX35P PSLX35P PS-LX410 PS-LX431 PSLX431 PS-LX435 PS-LX50 PSLX50 PS-LX70 PSLX70 PS-LX700 PSLX700 PS-LX700P PSLX700P PS-LX235 PSLX235 PS-LX431 PSLX431 PS-LX435 PSLX435 PS-LX47P S-4500 S4500 S-5500 S5500 S-6500 S6500 S-7500CD S7500CD SESSION 205 SESSION 205D SESSION 205W SESSION 205F SYSTEM-M360 SYSTEM-M360 SYSTEM-S205 SYSTEMS205 PS-LX205 PSLX205
SYLVANIA MODELS BP2664
TECHNICRAFT TC4000 TC-4000 CARTRIDGE
TOSHIBA N-16D N16D STYLUS
TOSHIBA C-16 C16 CARTRIDGE
YAMAHA CG-7800 CG7800 CG-7700 CG7700 CG-7900 CG7900 CARTRIDGE
YAMAHA N-707 N707 N-7700 N7700 N-7800 N7800 N-7900 N7900 N-7900 N7900 N-710 N710 N-595 N595 CG-7900 CG7900 STYLUS
---