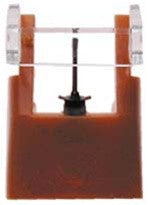 LP Tunes Replacement for Audio-Technica ATN-12XE ATN12XE phonograph needle stylus
LP TUNES REPLACEMENT FOR AUDIO-TECHNICA ATN-12XE ATN 12XE ATN12XE NEEDLE STYLUS
The replacement for the Audio-Technica ATN-12XE ATN12XE needle stylus features a highly polished special elliptical diamond with a .0003 x .0007 inch radii bonded to a thin-wall Zualum tubular cantilever. It offers accurate tracing of record grooves, long playing life and harmonically rich and detailed sound quality.
For a stylus replacement that offers improved sound quality and performance, refer to the Related Products.
Perfect replacement
I needed a replacement stylus for two of my cartridges. This is a perfect fit for my AT96E cartridge..
Excellent sound and excellent price partnered with my old AT4030LC.
My Pioneer PL-7 and Audio-Technica AT4030LC from the early 80's needed a new stylus. I initially replaced the entire cartridge but didn't enjoy the sound as much as the original with the now very expensive ATN12S stylus. After referring to various reference materials I decided to replace the original stylus with the LP Gear ATN12XE. LP Gear shipped almost immediately and I received the stylus in a few days. It took all of 30 seconds to replace the stylus, and maybe another minute to check the tracking force and anti-skate. Results: a wonderful stylus! There is a slight loss of the very top of the high end (the original shibata stylus is rated up to 45 Khz) but the new stylus is punchy with clear highs. Tracking at 1.25g the cart tracks quietly and fully. Looks like the old cart will stay in business for at least another year or so. Why replace the entire moving magnet cartridge when you only need a new stylus?
---