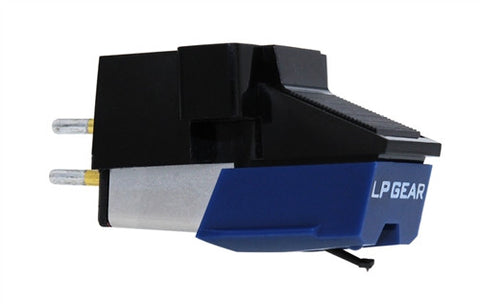 LP Tunes CARBON FIDELITY CF95SE cartridge
LP Tunes CARBON FIDELITY CF95SE CARTRIDGE 
- Music that makes you want to listen.™
Listen to the new voice of music. Carbon fiber composites offer 10 times the strength of steel at half the weight. Co-developed and designed with LP Tunes by Audio-Technica's best engineers, the new Carbon Fidelity 95 Spectra Elliptical (CF95SE) cartridge benefits from the latest quality parts and materials technology featuring a super carbon fiber cantilever that respond to the most complex high amplitude attacks and transients as well as the most heavily recorded passages. The updated design, tight specifications, Twin-Flux™ magnets, high-quality moving system fulcrum and radial damping ring allied with a Spectra elliptical diamond tip produce music that makes you want to listen.
Mastered to illuminate in comparison to lofty cartridges beyond the economics of most listeners, the CF95SE touches and endears the more you listen. You won't want to go back to your underperforming or pricey cartridge. You'll hear, feel and sense the music exquisitely rendered — harmonically full-bodied, refractive and refreshingly crystal clean with luminous detail spatially radiating with realness. You'll experience remarkable note clarity, projection and nuanced tonal complexity previously unheard and unappreciated.1
CF95SE Phono Cartridge Details 
- Type: Moving Magnet VM Dual Magnet Stereo
- Output voltage @ 1kHz,5cm/sec.: 2.5 mV
- Channel balance at 1kHz: 2.0 dB or less
- Channel separation @ 1kHz: 20 dB
- Frequency response: 20Hz-20kHz
- Dynamic compliance (x10-6 cm/dyne): 6.5
- Load resistance: 47k ohms
- Load capacitance: 100 - 200 pF
- Stylus type: 0.3 × 0.7 mil Spectra Elliptical diamond
- Cantilever: Super Fidelity Carbon Fiber2
- Tracking force range: 1.5 - 2.5 g
- Tracking force recommended: 1.8 g (18 mN)
- Coil impedance at 1kHz: 2.8k ohms
- Phase polarity: In-phase, positive polarity 
- Recommended load resistance: 47k ohms
- Recommended break-in duration: 30 hours
- Color: Black, Silver, Indigo, white LP Tunes
- Weight: 5.7g ± 0.5g
- Dimensions (mm): 28.1L × 12.7W × 17.2H
- Accessories included: Brass screws × 2, and nuts × 2
- Stylus replacement: LP Tunes CFN95SE stylus
____________________________________ 
Footnote 1: A high resolution system allows full experience of the nuanced tonal complexity offered by the Carbon Fidelity CF95SE. 
Footnote 2: Carbon fiber composites offer 10 times the strength of steel at half the weight. Each producer's carbon fiber differs from those of its competitors, and the processing details are considered to be intellectual property. The special carbon fiber used in the Carbon Fidelity cartridges and styli is patiently and expertly considered for its signature characteristics to bring out the subtleties and finesse of music extracted from the grooves of records and LPs. For carbon fiber info see: "The making of carbon fiber".
Excellent Customer Service!
LP Tunes are very responsive and were incredibly helpful to me in finding a replacement stylus for my turntable. Even though there was some initial confusion on the correct needle for my order, they were quite quick to respond when I reached out to them about the error, and made it very easy to complete the exchange! Great experience, would definitely recommend!
Worth the bucks
It's difficult to for me to differentiate between the CF95SE and the AT120eb. But they are on different turntables - both tracking at 1.68g. Lows, mids and highs sound virtually the same. Maybe slightly high on the top end for both, but the bass is tight without compromising the clear mids. A note that both have less than 10 hours of play, so that may have an effect, but even so, I am impressed with the reproduction. If you're looking for a value cart, this is it.
New cartridge
So far so good still breaking in stylus, sounds very well balanced
carbon fidelity cf95se cartridge
quick shipping, easy to install with included alignment gauge, big improvement in sound quality over the standard cartridge that came with the turntable.
Head and Shoulders Above AT95e
LP GEAR CARBON FIDELITY CF95SE stylus makes the AT95 a giant killer. Amazing clarity, agility and bottom end impact compared to AT95e. Superb tracker....no IGD. Well worth the upgrade. Sounds WAAAY better than 2M Blue.
---