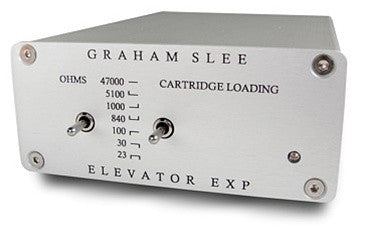 Graham Slee Elevator EXP Moving Coil Head Amplifier
GRAHAM SLEE ELEVATOR EXP MOVING COIL HEAD AMPLIFIER
The Graham Slee Elevator EXP moving coil head amp has received awards and distinctions that only a select few and the very best achieve, testaments of its world class stature and exceptional ability to deliver sound quality equal to or better than any MC head amp at any price.
The Graham Slee Elevator EXP (active step-up device) is designed to express the full performance of low output MC phono cartridges of the highest caliber. The complete lack of flywheel effect or hysteresis of transformers, correct cartridge matching, and fast low noise video bandwidth enable the Elevator EXP to deliver truly exceptional performance hence the awards stated above.
The Graham Slee Elevator EXP is a separate unit flat response 22,5dB gain stage (having its own outboard power supply) optimized for MC cartridges, that will boost the signal to Moving Magnet level. The less stressed MM phono stage that follows it, can then be realistically expected to deliver a good musical performance.
The Graham Slee Elevator EXP features video amplifiers that provide the bandwidth required for the absolute phase needed to reproduce instrumental and voice structure timbre, a sound-stage with depth and width, and the instant dynamics which makes the music and recording venue come alive.
Its input referred noise measures -130dB rms like studio microphone amps (Just take away your cartridge sensitivity in dB for the S/N). That means the hiss will be below the noise of a clean record, and in the case of the Elevator EXP, there is no hum provided the turntable components and arm lead are properly screened and grounded to the EXP ground post.
The Graham Slee Elevator EXP's distortion is near non-existent at less than 0.01% (including the test oscillator's 0.003% distortion).
Rather than being designed for the convenience of the manufacturer, the Graham Slee Elevator EXP sports its cartridge loading switches on the front panel. Furthermore, we've included all the resistive loads you've been asking for.
Each Elevator head amplifier is extremely transparent, allowing the true character and expression of your low-output MC cartridge to shine through.
Loading
The following cartridge loads are available via two front panel gold plated contact switches: 47,000 - 5,100 - 1,000 - 840 - 100 - 30 and 23 ohms.
Highest professional standards
Components used in the Graham Slee Elevator EXP are to the highest professional standards, including FR4 epoxy resin single and double sided plated through hole printed circuit boards, C&K gold plated contact switches, analog devices semiconductors, tantalum capacitors, Elna audio grade capacitors, Wima low inductance high speed polypropylene and silver/mica capacitors. Connections are by heavy gold plated, Teflon insulated deluxe phono jacks, and an additional arm earth is provided for convenience.
The case, which matches the Graham Slee Era Gold V, Jazz Club, Reflex, Revelation and Solo, is our unique construction aluminum extrusion base and top, with 3.2 mm thick front and rear panels. Finish is satin silver anodized aluminum.
Warranty
Should this product fail while being used for its intended purpose, within one year of purchase, we will repair or replace it at our discretion. Please contact LP Tunes for details. No other liability will be accepted. Your statutory rights are not affected.
Awards
Hi-Fi News Best Phono Stage Award for 2004
Best Phono Stage Under £1,000 Award at the 2005 Heathrow Hi-Fi Show
Class A Recommended Component Stereophile Vol.30 No.10 October 2007
Class A Recommended Component Stereophile Vol.31 No.4 April 2008
Class A Recommended Component Stereophile Vol.31 No.10 October 2008

Manufacturer
Graham Slee Projects Limited
1 Monks Way, Monk Bretton, Barnsley, S71 2JD, United Kingdom
+44(0)1226 244908 Tel/Fax
gsp.ltd@gspaudio.co.uk email
http://www.gspaudio.co.uk website
---