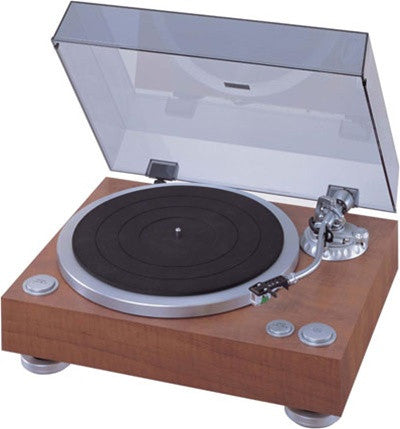 Denon DP-500M DP500M turntable
DENON DP-500M TURNTABLE
- Discontinued and unavailable, we do not know if and when this will again be available. For alternative replacements, refer to the Related Products.
The Denon DP-500M DP500M turntable, direct drive and meticulously optimized for sound quality.
The Denon DP-500M turntable is unique in the constellation of current production, high quality record playback systems built and designed for sound quality. It is a direct drive turntable. If you will note, there are no other high-end turntables that are direct drive — not anymore. Everything is belt drive.
Denon has been manufacturing high quality direct drive turntables for over 25 years. It's their legacy like their renowned DL-103 moving coil phono cartridge. Building high quality direct drive turntables is one of Denon's many strengths, a technical advantage that has evolved and grown over time. No other existing manufacturer has their expertise. With this in mind, consider the design elements that make the Denon DP-500M turntable an excellent record playback system.
Direct Drive with Encoder and High-Torque Motor
The Denon DP-500M turntable uses a quartz lock servo that controls platter rotation via intervals of optical pulses passing through a slit. This control system ensures accurate rotation with no deviation from the center. The development of a high-torque motor (4.5 kg-cm) has boosted start-up speed to 0.3 second, providing quick operation and stable rotation.
Large 13 inch Turntable with Minimized Resonance
Silicon rubber, a deadening material, has been applied over the entire reverse side of the large diecast aluminum platter to minimize resonance. Hologram vibration analysis was used to improve the ability of the supplied platter mat to "hold" the record. The supplied platter mat is specially designed with a slight cone-shaped taper to improve record adhesion.
High-end Quality and Highly Sensitive Tonearm
The DP-500M's tonearm has been designed for optimum sound quality through the use of diecast parts throughout to boost rigidity and carefully placed deadening material to minimize vibration. This universal-type tonearm accommodates a wide variety of moving magnet and moving coil phono cartridges. The removable diecast aluminum headshell allows covenient replacement and use of different cartridges.
Strong, Compact Cabinet Made of MDF (Medium Density Fiberboard)
The cabinet has been constructed in a compact size despite the large platter size to improve rigidity and minimize howling. The MDF material offers performance close to natural wood, while also imparting a soft finish and elegant appearance.
Large Insulating Feet
Four large specially-made insulators for the Denon DP-500M are used to eliminate externally induced mechanical and airborne vibration that could distort sound quality.
RCA Pin-type Output
RCA pin-type output has been used for the Denon DP-500M, providing flexibility and ease when changing RCA cables to match sound quality or cartridge impedance.

A phono cartridge is not included.
We would be happy to assist you with best pricing and phono cartridge recommendations.
Downloads
Denon DP-500M turntable specifications
| | |
| --- | --- |
| ITEM | Denon DP-500M |
| | |
| Phono Motor Section | |
| | Quartz lock servo control direct drive manual operation |
| Speed | 33-1/3 and 45 rpm |
| | |
| | |
| Rotational Stability Time | 0.3 second or less to reach normal speed |
| | Aluminum diecast, 331 mm treated with silicon rubber on the reverse side to absorb vibration |
| | 0% (under stylus pressure 80g) |
| | |
| Tonearm Section | |
| | Static balance type, light weight S-shaped tonearm |
| | |
| | |
| | |
| | 0 - 4.0 g (0.25 g increments) |
| Acceptable Cartridge Weight | 5.0 - 11.0 g (including screws & nuts) |
| | |
| | |
| General Section | |
| | |
| | |
| | 450 (W) x 170 (H) x 370 (D) mm incl. feet |
| | |
---