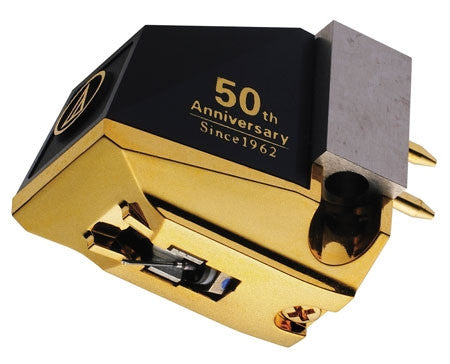 Audio-Technica AT50ANV Phono Cartridge
AUDIO-TECHNICA AT-50ANV AT50ANV LIMITED EDITION MC PHONO CARTRIDGE
- Conveys with unequalled purity thousands and more of harmonic notes and blank spaces
Audio-Technica has been renowned for its phono cartridges for 50 years, and the moving-coil AT50ANV exemplifies the company's distinguished excellence. The unequalled limited-edition AT50ANV has a unique air-core design that employs a non-magnetic armature for the coil frame, yielding exquisite resolution, fine musical detail and a natural, transparent, full-bodied sound quality - reproducing with purity a thousand and more harmonic notes and blank spaces so honestly glorious it connects our ears with our soul and brain. Its new magnetic proprietary circuit design and neodymium magnets deliver almost twice the output of previous cartridges for extremely low noise and improved bass response.
● Non magnetic core MC type developed as a 50th anniversary commemorative model uses a newly developed pure titanium non magnetic armature as the coil winding frame. This provides organically natural and clear sound quality and ability to express three-dimensional sound fields.
● Newly designed magnetic circuit that maximizes magnetic energy. The permendur magnetic circuit parts located around the magnet have also been newly designed to maximize the strength of the intensive magnetic field in the coil gap. This magnetic circuit increases the output voltage, and also enhances playback capability in the medium to low-frequency range.
● Special line contact stylus with tip curvature radii of 40μm 7μm and solid boron cantilever with a 0.26 mm diameter. They enable exact transfer of music signals read by the stylus tip to the magneto coil.
● Machined pure titanium base that supports the magnetic circuit and vibration system is made of precisely machined pure titanium materials. This serves as a solid base to frame a stable and wide soundstage and playback capability.
● Hybrid body that reduces unnecessary parasitic resonance. The housing is made of machined aluminum materials and the cover is made of hard plastic materials. Together they dissipate parasitic resonances that smear and create spurious harmonics. With virtually minimal resonance, you'll experience see through clarity, musical air and optimal sound quality.
● Quad hybrid lead wires with a balanced blend of gold clad, 7N-OFC, PCOCC and OFC are used in pursuit of the ideal balance with the main cartridge unit.
Audio-Technica AT50ANV Specifications
- Type: Non Magnetic Core MC
- Frequency response: 15 ~ 50,000 Hz
- Output voltage: 0.12 mV (1kHz, 3.54 cm/sec.)
- Channel separation: 30 dB (1kHz)
- Output balance: 0.5 dB (1kHz)
- Tracking force: 1.6 ~ 2.0 g (1.8 g standard)
- Coil impedance: 11.5 Ω (1kHz)
- DC resistance: 11.5 ΩΩ
- Rec. load impedance: Min. 100 Ω (when head amplifier connected)
- Coil inductance: 7 μH (1kHz)
- Static compliance: 35 10-6 cm/dyne
- Dynamic compliance: 10 10-6 cm/dyne (100Hz)
- Stylus: Special line contact stylus
- Cantilever: Diameter 0.26mm solid boron
- Vertical tracking angle: 23
- Dimensions: 17.3(H) 17(W) 25.6(L) mm
- Weight: 10.0 g
- Accessories: Driver 1 non-magnetic material, washer 2, protector 1, cartridge mounting screws (12mm 2,18 mm 2), nut 2, brush 1, line set quattro hybrid AT6106 1.
Note: Specifications are subject to change without notice.
---