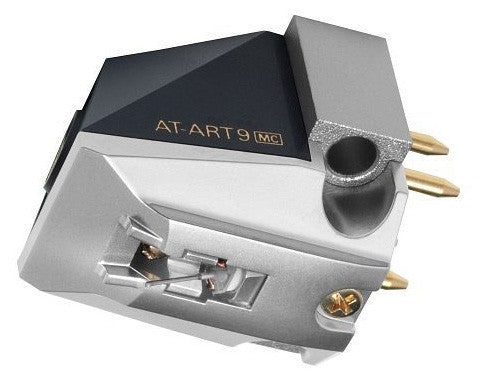 Audio-Technica AT-ART9 Phono Cartridge
AUDIO-TECHNICA AT-ART9 MC PHONO CARTRIDGE 0.5 mV
- Hearing a thousand glorious notes and blank spaces
The AT-ART9 is Audio-Technica's flagship moving-coil cartridge. Combining the craftsmanship, artistry and leading-edge engineering derived from the AT50ANV, AT-ART7 and AT-OC9/III cartridges, the AT-ART9 employs a vibration system and magnetic circuit that are the best-ever within the series thus resulting in exquisitely transparent and naturally complete sound quality. It is so startlingly honest that your ears convey to your right brain and it comes to a singularly quick conclusion - this is real music at its best. Just like the body knows real sugar from processed substitute. Still, it will throw you off - until your left brain processes this truth, logically, deductively and empirically.
● Its new magnetic circuit design adopts permendur yoke and neodymium magnet for dramatically increased magnetic energy, extremely low noise and improved bass response.
● Special line contact stylus with tip curvature radii of 40μm 7μm adopted in AT50ANV and solid boron cantilever with a 0.26 mm diameter allow accurate transfer of music signals from the stylus tip to the generating coil.
● Dual moving coil for high separation and wide response.
● Hybrid body inherited from the AT-ART7 cartridge design to suppress unwanted parasitic and deleterious resonances. The housing is made of machined aluminum materials to dissipate parasitic resonances for unimpeded sound quality and clarity.
● PCOCC coil wiring for direct and pure signal transmission
● High-quality brass screws for headshell attachment offers the best match for optimal sound quality.
Audio-Technica AT-ART9 Specifications
- Type: Moving Coil VM Dual Magnet Stereo
- Playback frequency range: 15 ~ 50,000 Hz
- Output voltage: 0.5 mV (1kHz, 5 cm/sec.)
- Channel separation: 30 dB (1kHz)
- Output balance: 0.5 dB (1kHz)
- Tracking force: 1.6 ~ 2.0 g (1.8 g standard)
- Coil impedance: 12 Ω (1kHz)
- DC resistance: 12 Ω
- Rec. load impedance: 100 Ω or more (when head amplifier connected)
- Coil inductance: 25 μH (1kHz)
- Static compliance: 35 10-6 cm/dyne
- Dynamic compliance: 18 10-6 cm/dyne (100Hz)
- Stylus: Special line contact stylus with tip radii curvature of 40μm 7μm
- Cantilever: Diameter 0.26mm solid boron
- Vertical tracking angle: 23
- Dimensions: 17.3(H) 17(W) 25.6(L) mm
- Weight: 8.5 g
- Accessories: non-magnetic driver 1, washer 2, Protector 1, Cartridge mounting screws 12mm 2,18 mm 2, Nut 2, Brush 1, PCOCC lead set 1.
Note: Specifications are subject to change without notice.
Reviews & Discussions
- "New ART-9 up and running..."
_______________________________________
Music listening equipment: Graham Slee Reflex M phono preamp, Graham Slee Elevator EXP headamp, Denon AU-300LC Step-up transformer, Graham Slee Proprius mono amps, Quicksilver Silver 88 mono amps, Sota Sapphire turntable, Audience SE Phono Cable, Audience Ohno speaker cables, Rogers LS3/5A speakers, Audience ClairAudient 1+1 Loudspeakers, Krell LAT 2 speakers, Yamaha NS1000M speakers.
---